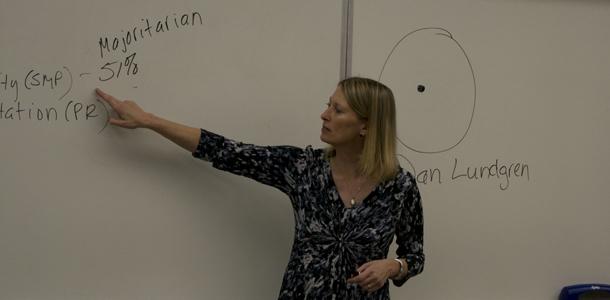 Professor Elizabeth Huffman is the most recent addition to Cosumnes River College's political science department, teaching Political Theory and International Political Economics.
In addition, beginning fall 2012, she will be teaching a class on Central Asia Global Studies.
Although she has been teaching at CRC for several semesters, she said she has two common goals for all the students who enroll in her courses.
"I want to make sure their educational skill set is solid and polished, so that they are absolutely prepared to transfer to the university and succeed," Huffman said. "I also want them to have to have the skills to be good citizens. This includes understanding your own beliefs about politics, understanding the political institutions under which you live, and understanding the global context in which we operate."
Although originally from Philadelphia, Huffman moved to Sacramento in 2007 from Atlanta after her husband accepted a job offer.
The following spring Huffman was lucky to find an opening in the adjunct teaching pool at CRC.
Upon her arrival at CRC, Huffman said she was amazed CRC has a global studies program, unlike most community colleges who put a heavy emphasis primarily on American politics.
"I don't think you will find another program in Northern California that offers such a wide variety of international courses," Huffman said. "I could not have found a program that better fits my interests or my perspective on politics."
Huffman said her interest in politics began when she was a teenager, where she noticed she enjoyed paying attention to political coverage and keeping up with current events.
However, in college she decided to major in German and minor in political science.
In her junior year she studied abroad in Germany where she said "it all came together for me."
She said she believes studying abroad gave her the opportunity to see politics from a global perspective.
"I found that to be exciting and far more interesting than American politics all by itself," Huffman said. "Politics makes so much more sense when you put it into a global context."
Huffman also said she considers her trip to Germany a "real eye-opener."
"I was in Germany when the Berlin Wall fell. The United States claimed victory in winning the Cold War. Germans, however, saw it very differently. They had been Ground Zero in the Cold War. All the Cold War simulations had started with fighting on the German border," Huffman said. "They saw the fall of the Wall as the result of a very carefully managed Ostpolitik (or Eastern Policy) that not only made it possible for the communism and capitalism to live side-by-side , but also come together again, peacefully."
Despite her passion for world politics, Huffman said she has other hobbies she likes to indulge in during her spare time.
"I like hot yoga, gardening and when I have extra time I like to read hard science fiction," Huffman said. "You can't teach political science without being a politics junkie, so I love reading the New York Times, The Economist and the BBC online."
And, loyal to her native Philadelphia, she proudly boasts she's still an avid Eagles football fan.
Aside from politics, Huffman said she truly enjoys teaching.
She said she loves helping students whether it be intellectually, academically or professionally and describes it as a great feeling when she sees students make progress towards their own goals.
Even though she's been to various locations around the globe, Huffman said she believes she has found her place amongst the students and staff of CRC.
"I think the students here at CRC are great. I have taught at other schools around the Sacramento area and have always found my CRC students to be the most engaging," Huffman said. "I am very happy to be here."