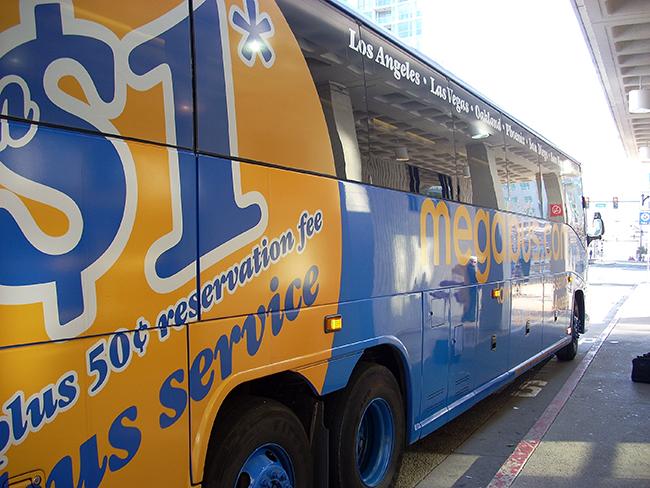 Courtesy
Traveling can be a costly endeavor, and with summer rapidly approaching, being stuck in your hometown does not seem too appealing. Plane tickets and gas prices are high, so it may seem like traveling is not an option. This is where Megabus comes in.
Megabus is an express, low-cost bus service that offers city to city travel for prices as low as $1 by using the Internet. It first launched in 2006, and to date, has served over 30 million customers, according to their website.
If you are looking to get out of Sacramento, Megabus offers three stops, including Sparks, Nevada, Reno, Nevada and San Francisco. Megabus has single and double-decker buses that each have free wi-fi, power outlets, reclining seats and on-board restrooms.
The prices alone are enough to draw attention to the service. With prices starting at $1 and average savings of over $31 on a one-way ticket, according to the megabus website, it makes sense to hitch a ride with this company.
"Megabus has become the new model of modern, efficient and affordable city to city transportation," said Mike Alvich, Megabus.com's Vice President of Marketing and Public Relations.  "As travelers continue to look for ways to stretch their dollar, we look forward to continuing to provide a safe, reliable and comfortable ride at a price that every American can take advantage of to stay connected to family and friends."
Another great feature Megabus offers is connecting routes so you can travel farther and bundle savings. The site has a list of approved connections that are all guaranteed to get you where you want to go, and in some cases, you can create your own connections depending on where you are trying to go.
Reserved seating is a new feature that is also available and allows riders that are traveling in groups to get seats next to each other. Riders with special needs can also use reserved seating to make sure their needs are met. Even if you chose to reserve a seat instead of just buying a ticket, there is no price increase, according to Megabus.
The prices for seats on Megabus.com always vary depending on where you want to go and when you book your trip, but savings are guaranteed, according to Megabus.
One downfall of Megabus is that what can be accepted as luggage is limited.  Skis, snowboards, bicycles, golf clubs and musical instruments can not be taken with you.  There is also a luggage weight limit of 50 pounds for one bag.
Overall, if you a looking for a trip to get away from the daily humdrum of your boring hometown, Megabus has prices that just about anyone can afford.  So pack your bags, it's time for a road trip.