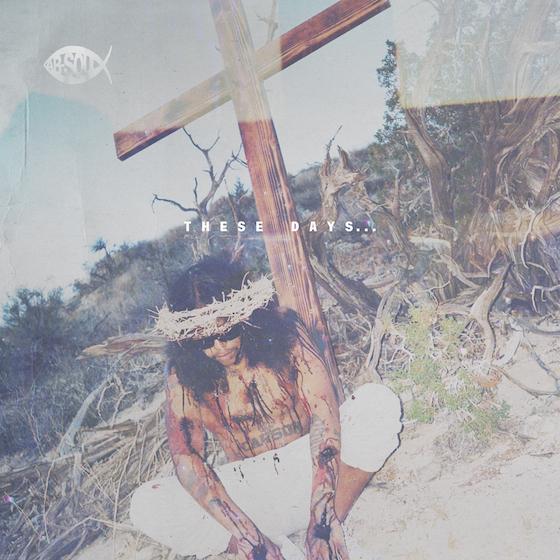 You can call Ab-Soul many things, amongst them he prefers "Lupe Fiasco on drugs" or an "idiot, genius," but the one thing you can't call him is uncreative.
"These Days…," Ab-Soul's second LP under Top Dawg Entertainment, sees him further expanding in terms of collaboration and theme. Having already proven himself a strong lyricist, Ab-Soul is able to stretch the creativity of each track differentiating him from other TDE releases which typically have a similar tone.
The exception being "Kendrick Lamar's Interlude," a reworking of "Ab-Soul's Outro" from Kendrick's 2011 album "Section.80," this time with Kendrick and Ab-Soul trading places. Kendrick delivers the aggressive opening lines while Ab-Soul repeats the hook and a verse, all over the saxophone infused beat by Terrace Martin.
Whether pulling influence from Nas' "The Cross" for the track "Stigmata" or beginning "Just Have Fun" with the line "Up jumps the boogie," paying homage to Sugarhill Gang's 1979 hit "Rapper's Delight," Ab-Soul still maintains his sense of individuality.
According to National Public Radio's Microphone Check, Ab-Soul said that he had finished the album six months prior to its release and utilized the prerelease time to "add a few extra songs" while "cleaning everything up, expounding a bit, elaborating." This can be heard in the wide variety of songs on "These Days…" that has no set tone and has the benefit of allowing him to explore a diverse set of topics.
Not having a unifying tone becomes a problem with tracks like "Twact" where it is difficult to determine whether it is a sincere attempt to make the albums only trap song or satire.
It's the attention to detail that reinforces "These Days…" The best example being "Nevermind That," produced by newcomer The Kathy, which briefly features the uncredited voice of BJ the Chicago Kid and smoothly incorporates a guitar under a verse of Rick Ross.
The high quality of the album's production remains constant with each song adding to the diversity of sounds incorporated throughout the album.
This is highlighted by "Ride Slow," which features the progressively menacing production of Mac Miller, under the pseudonym Larry Fisherman.
The communal recording of "These Days…," which according to HipHopDX was recorded at Mac Miller's home, is apparent in the range of featured artists who lend their voice to the album, such as Action Bronson or TDE label mate Schoolboy Q. As well as the uncredited vocals of artists whose names generally illicit a great deal of attention, such as Earl Sweatshirt and Jhene Aiko.
The album ends with Ab-Soul trading puns and double entendres against battle rapper Daylyt for the track's latter 20 minutes. Each line is delivered deliberately as if to say "in case the rest of the album went over your head, we've slowed it down."
Ab-Soul's consistency in the quality of his lyrics is really what ties this album together. It's difficult to pinpoint whether it is an improvement over his previous album "Control System" because it is so different.
Luckily, "These Days…" is strong enough to stand on its own.
The lyrical flow and the successful diversity of "These Days…" allow Ab-Soul to confidently continue his career in any direction he chooses.