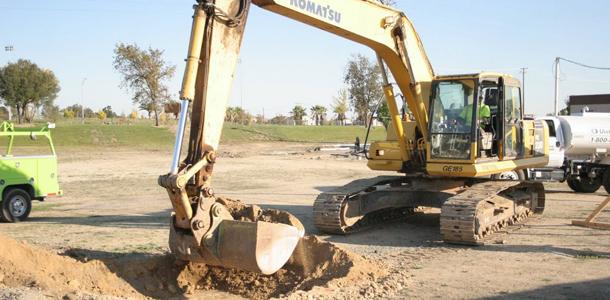 Parking lots around the Cosumnes River College campus have been closed due to construction projects, including a joint project between the Los Rios Community College District and Sacramento Regional Transit.
Don Wallace, Vice President of Administrative Services, explains 400 parking spots have been closed in Lot E and an additional 100 spaces have been closed in three other lots. Many parking spaces were closed to provide working space for three projects that are taking place on campus simultaneously: the RT parking garage, The Winn Center for Construction and Architecture and the Athletics Field Project.
The construction of the RT parking garage is the most recent project of the partnership between Los Rios and Sacramento RT. Assistant General Manager of Engineering and Construction for Sacramento RT Diane Nakano said the new parking garage structure is needed for the Blue Line to CRC light rail extension project. Since the parking garage requires a lot of work space that interferes with student/staff parking, Nakano explained an alternative parking method has been provided.
"The new surface parking lot that was constructed by CRC near Bruceville Road and Old Calvine Road was constructed by CRC to ensure that adequate parking would be available during the construction of the parking garage and the anticipated light rail facilities," Nakano said.
Wallace says the parking garage and the light rail station are a part of RT's plan to extend the light rail route to the CRC campus.
"The light rail station and parking structure are designed to help reduce overcrowding on campus as more students will be able to take light rail to campus instead of driving," said Wallace. "Additionally, the 2,000 stall garage is designed to accommodate the RT park-and-right commuters. Initially, all 2,000 parking stalls will be available to CRC students because the light rail station will be built after completion of the parking garage."
CRC Public Information Officer Kristie West explained that until the RT parking garage's completion in spring 2013, Lot E will be unavailable to students and staff.
"When light rail comes in around 2015, those who ride it will be able to park in the garage and then go to their destination via light rail," West said. "The upside is that CRC students will also be able to use it."
Wallace added that the Athletics Field Project will be completed by fall 2012 and the Winn Center should also be finished in spring 2013.
Yet Nakano mentions as soon as the light rail development begins another section of parking lots will be closed to the public.
"After the light rail construction begins for the light rail station and bus transfer facilities, the surface parking lot north of the driveway at Bruceville Road will be impacted, likely closed until those facilities are completed," Nakano said.