New senate bill proposes partial restoration of funding to DSPS and EOPS
Students, staff, faculty and advocates from across the state gathered together at the California State Capitol on May 1 in support of Senate Bill 705, aimed at restoring partial funding to categorical programs for California's community colleges.
The bill would allocate $50 million to be divided equally between Disabled Programs and Services and Extended Opportunity Programs and Services, according to the fact sheet provided by the office of Senator Marty Block (SD-39), the original author of the bill. Block addressed a small crowd on the north steps of the Capitol, but was backed by over fifty supporters, counselors and students from the programs.
"We can't ignore these programs that have suffered 40 percent cuts in the last four to five year," Block said. "Those with hurdles because of disabilities, those with hurdles because of their economic circumstance, they need additional assistance and SB 705 provides that."
The bill was co-authored by Assemblymember Susan Bonilla (AD-14) who also spoke at the press conference, addressing the urgency of the matter.
"These students can't wait," Bonilla said. "They need to be able to go to school today. They need to be able to go to school in September … They can't wait five years, we must do this now."
Over the past four years as state funding for secondary education has been reduced, both DSPS and EOPS have been faced with serious challenges. Statewide, approximately 25,000 eligible students were not accepted into EOPS while DSPS has seen a reduction of services and an increase in wait time for accommodations, according to the California Legislature fact sheet.
Ruth Wellend attends the University of San Francisco and is a recent a graduate of Sacramento City College. She is one of the thousands of students affected by the budget cuts and shared her personal challenges with the audience as part of the press conference.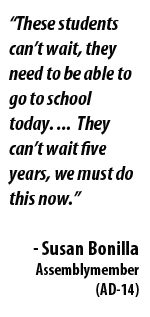 After losing her vision and undergoing frequent dialysis treatments in 2006, Wellend was the recipient of a kidney-pancreas transplant in 2008. Three years later she was nominated for the 2011 All USA and Coca-Cola Scholarships which provide thousands of dollars to academically successful students.
Half-way through the semester, due to the minimized DSPS budget, Wellend's math tutor had to search elsewhere for employment; and though she was at that point an "A" student, her access to the course became restricted and she began to struggle, Welland said.
"Because there was not enough funding in DSPS," she said. "I didn't make it to the final round, [but] being ambitious I never gave up."
A sociology major at SCC and student who utilizes EOPS, Sammy Sanchez, also spoke at the conference.
"As a former foster youth with little to no support from outside people, the opportunity to walk into EOPS and see my counselor and ask for advice was extremely helpful," Sanchez said.
Also working for the program, Sanchez shared his first-hand experiences with the lack of funding.
"Students often come in and ask if they can join the program," he said. "And we have to turn them away because there is no more funding."
Having passed the education committee unanimously, SB 705 will now be discussed in the appropriations committee, and if approved will move to the floor of the state senate where "we have very high hopes for it," Block said.
The learning disability specialist at Cosumnes River College and a longtime advocate for DSPS, Scott Hamilton, also attended the event.
"We've never had anybody listen to us before," Hamilton said. "We're not saying anything different than what we've been saying for four years … but now we have a senator and assemblymember who are listening."
If the bill passes, CRC's DSPS department could benefit with additional staff and the ability to provide more services in a timely manner, Hamilton said.
With a unanimous pass in the education committee, those speaking at the conference were hopeful.
"If you just give us a chance to play on this team, on the California team," Welland said. "We can show you what we are made of. We are brilliant people. We have a lot to contribute."