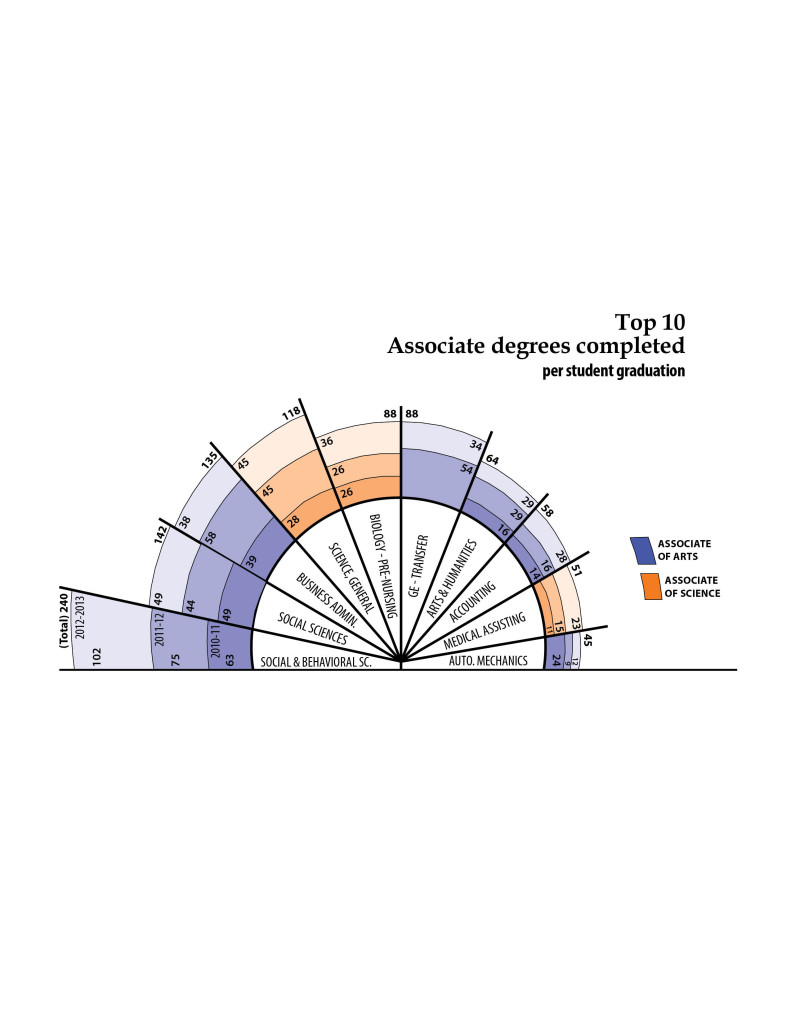 During an era of budget cuts, where many community colleges have seen a decline in student enrollment, many Cosumnes River College departments have seen an increase in the number of students being awarded Associate degrees over the past three years.
The college as a whole has also seen an increase, with a total of 602 degrees being awarded in 2010-11, rising to 633 in 2011-12. For the 2012-13 academic year, 673 degrees were awarded.
There are a variety of reasons behind the increases, including the recently introduced Associate of Arts-Transfer and Associate of Science-Transfer degrees, which can guarantee a student admission in the California State University system. The total number of transfer degrees awarded during the 2012-13 school year was 88, which is 13 percent of the total number of degrees awarded last year.
"Ideally, those AA and AS transfer degrees are really designed to help students be focused and be on the two-year track to complete a specific degree here and to transfer on," said Vice President of Student Services and Enrollment Management Celia Esposito-Noy.
The transfer degree certainly had an impact on the psychology department, which saw an increase from zero psychology for transfer degrees awarded in 2010-11 to nine in 2011-12 and 23 degrees awarded in 2012-13, a 255 percent increase.
The sharp increase seen in the psychology department can be attributed to multiple factors, said Psychology Professor James Frazee.
"When the legislature made the AA-Ts a reality for us, we collaborated around the state to form a common core curriculum and then to offer the first two years of the psychology degree program here," Frazee said. "It's such a good opportunity for our students now that we've redesigned our course offerings to really heavily focus on allowing more students to transfer."
Other courses have expanded over the years, allowing more students to get the classes that they need.
"We expanded biological psychology, which was really my mission when I was hired here," Frazee said. "We offered one course in it when I got here and now we offer a very large lecture with three associated labs, so I've tripled the number of students that can take that."
The accounting department also saw a steady increase in degrees awarded over the past three years, from 14 in 2010-11 to 16 in 2011-12 and to 28 in 2012-13.
"I believe part of the reason the accounting degrees have gone up is due to the hard work of the accounting faculty, getting the degrees current and updated over the past several years," said Lance Parks, Interim Dean of Business and Family Science.
Parks also attributed the increase in degrees awarded to the increased publicity surrounding accounting degrees.
"I also think part of that is due to some of the news articles, the push on accounting as a viable field, if you will," Parks said. "Students read that you can get a job as an accountant, things of that nature then make the program more desirable as well."
Early Childhood Education is another department that has seen an increase in degrees awarded last year.
"I know Early Childhood Education is up," Parks said. "They've done a lot of work on getting their curriculum up to date and they're really good at scheduling the classes, getting the students through the program, which I think helps."
Some degree programs have unique reasons for having relatively low percentages of the total degrees awarded, including Computer Information Science.
"A student I know in CIS has a degree in automotive, for whatever reason decided that was not what they wanted to do forever and came back to school," Parks said. "So what they end up doing is they get a certificate or two, and that's what I think happens a lot in CIS, students are re-careering."
There are things that faculty can do to potentially increase the number of students successfully achieving their degrees.
"As divisions and faculty, we just need to get more cognizant about talking about degrees and certificates as part of the course and making students aware of it," Parks said.
Some areas of study will always see low numbers.
Those programs that have "a clinical component involved" will consistently have low numbers because of accreditation, Esposito-Noy said. "They really don't want you to have big programs, so those programs are going to remain small."
Other degree programs remain small for different reasons.
"Art is pretty narrow, music is pretty narrow, they're applied areas of study," said Dean of Communication, Visual and Performing Arts Torence Powell. "Generally, they tend to be areas where people have some preceding interest when they transition into the college level."
The department created an art AA-T degree to address another factor impacting their graduation rate.
"The thought process was that some of the degrees at the two-year level tended to be fairly big and long and they were a little too comprehensive," Powell said. "I think we have students who are artists, who are theatre arts majors, who begin these degrees but never complete them because they transfer on."
Some students have the units necessary to obtain a certificate or degree, and the school is working on notifying those students of their eligibility, Powell said. There are, however, some reasons a student might not want the degree or certificate they have achieved.
"There are some implications for the student on that end, once they complete a certificate or degree it could have an impact on their financial aid, and several other factors," Powell said. "There are reasons that students intentionally don't pursue certificates and degrees."