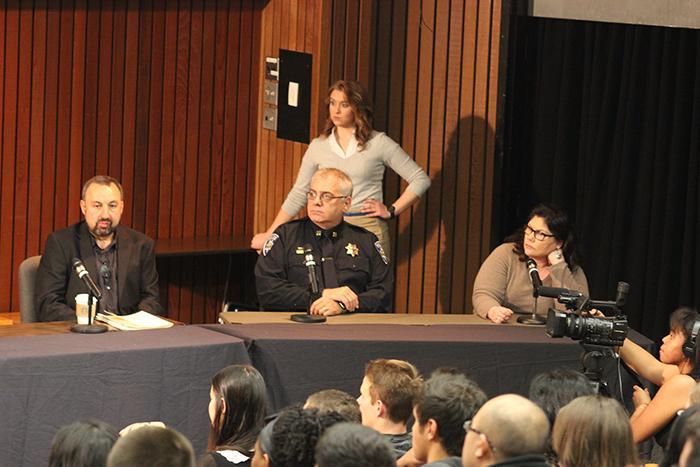 Bobby Bishop
Just weeks before winning the 1998 Miss World Pageant, Israeli teen Linor Abargil was held captive and raped by her travel agent on her way home from a modeling assignment in Italy.
Ten years later, she decided to confront her past and reach out to fellow rape victims and encourage them to speak out in her documentary "Brave Miss World," directed by Cecilia Peck.
In the documentary, Abargil's story slowly unfolds as different survivors also share their stories with Abargil.
"The brutal way he raped me twice, with a knife at my throat, to this day I can't fathom that I went through all of that and survived,"Abargil said, as she read a letter she wrote to her rapist's parole board.
Her rapist, Uri Shlomo, was due to have a parole hearing to be released from jail before his full sentence had been executed.
On average, 237,868 people are sexually assaulted each year, which factors out to be one rape every two minutes, according to the Rape, Abuse and Incest National Network. Of those sexual assaults, 60 percent remain unreported to police and 97 percent of rapists will never spend a day in jail, according to RAINN.
In honor of Women's History Month, on March 5, Chair of the Department of Global Studies Martin Morales reached out to Cosumnes River College students, staff and other schools of the Los Rios Community College District to view a special presentation of Abargil's documentary and participate in a panel of special community members discussing rape prevention.
The forum was packed and the presentation was also streamed to a screen in the library lobby and broadcast live to several other states and even outside the United States.
One of the survivors that spoke with Abargil in her travels across the world was Fran Drescher from the television series "The Nanny." Drescher told her survival story and how not only she but her husband both suffered.
"There was a gun to Peter's head and we just did what we were told," Drescher said.
Drescher's home was invaded by two men, one of whom raped her and a visiting friend, while the other held a gun to her husband's head.
After the documentary ended, a four-member panel shared their thoughts on the films message and held an open microphone discussion with the audience.
During the open microphone session, audience members were allowed to ask the panel questions and some even bravely shared their own stories.
One student said she felt that going to the police would be pointless because she felt so many rape cases are easily dismissed.
She asked Capt. John McPeek of the LRCCD police department and panel member, why, despite her beliefs, someone who had been through this kind of experience should even try to report it.
"We still have a long way to go," McPeek said. "Law enforcement today really does strive to focus on the victims. It is really important for us to do what we can to work with the victims on these types of calls and types of crimes."
The panel members discussed how society can help decrease the staggering number of sexual assaults.
"What I do believe is that if we are going to stop sexual assault altogether, we, as a society, have to stop it," said Jessica Heskin a Violence and Sexual Support Services Director at California State University of Sacramento. "We have to hold perpetrators accountable, we have to hold misogynistic behavior accountable, we have to hold our media accountable, we have to do that as a culture."
Brenna Lammerding, a prevention and education assistant for WEAVE, Inc., added to Heskins statement with her thoughts on how society needs to change when it comes to sexual assault.
"You should be able to walk to your car at night and not get attacked," Lammerding said. "You should be able to wear a mini-dress out on the town with your girls and go home afterwards and not get attacked. You should be able to go anywhere at anytime and not have someone attack you or force themselves on you."
If we start to hold the perpetrators accountable and stop the victim blaming we can help change the victim blaming response, Lammerding said.
Morales said he hoped that after the night's presentation, other campuses would become more proactive in spreading the word.
"It is my hope that our peers at other campuses and my peers on campus will see this when it goes onto our website and say 'Wow, CRC had this event maybe we can do it too' and proceed to do that," he said.
Morales said there was one way for everyone to help get out the message about finding ways to end sexual assault.
"One of the best ways you can get this out there is word of mouth," he said. "There is this wonderful little thing that I am really not good with called social media…that can get the word out there and you tell one person and they'll tell two people and they'll tell four people and they'll tell eight, and from that it will spread."