Meet the candidates of the upcoming ASCRC elections
Four candidates are running in the Associated Students Cosumnes River College spring election on April 12-13.
The four candidates running include Tony Tran, Freddy K. Monde, Ericca Le and Evan Nguyen  who are running for Student Senate President, Student Senate Treasurer and Commissioner for the Clubs and Events Board. They're all campaigning to win students' votes before voting begins.
Tony Tran, an 18-year-old business administration major is running for Student Senate President. His leadership experience dates all the way back to middle school, getting involved in the Associated Student Body program, planning ASB events and being a rally director.
"I wanted to get involved in the CRC community after my first semester, last semester, and I want to be put on a platform to get students more involved," Tran said. "Being the Interim President of the Student Senate has given me the experiences that helped me grow stronger and maintain myself for the composure to be in this position."
Tran was very active in sports, serving as a team captain for youth basketball teams. He also tutored and mentored underclassmen going rough times. "I talked to them, comforted and gave them advice," Tran said.
"I'd like to make this campus a place where students come to have fun, get their education and are proud to go to," said Tran.
Freddy K. Monde, a 24-year-old computer science major, is also running for Student Senate President. He has been attending Cosumnes River College for about a year and said he's been hearing people complaining about many things, including the prices for books and supplies in the book store.
"I want to make students voices heard," Monde said.
Monde is originally from the Democratic Republic of the Congo in Africa He was a campaign leader for his dad, who was running for Governor.
"I feel like I have the skills to make a change, I want students to be heard and bring in new events and let students relax every once in awhile, and bring people together and open up communication between students and staff," said Monde.
Ericca Le, an 18-year-old business major, running for Student Senate Treasurer, said knew she wanted to be in the student senate, but didn't know which position. "Because I'm a business major, I wanted to do more financial related stuff," Le said.
In high school, Le was involved in the Leadership program as well as Link Crew, a program in which high school juniors and seniors help incoming high school freshmen with the transition from middle school to high school, and trying to get them involved in school and lead them through orientation. Le was also a choir manager, "which is a lot like a treasurer, in terms choir programs and ticket sales."
Evan Nguyen, a 21-year-old sociology major, running for Commissioner for the Club and Events Board, said, "right now, there's rarely any representation for clubs and events, and there's a lack of knowledge passed around, so I would like to change that."
Nguyen's resume includes many titles such as core secretary for the Alpha Phi Omega fraternity, fundraising, publicity, and recruitment. Nguyen was also a club representative for the Vietnamese Student Association.
"The main goal is to create the foundation for a better future of not just the CRC community, but the entire Los Rios community as well," Nguyen said.

Students can vote on their e-services accounts on April 12 and 13 from 7 a.m. to 11:30 p.m. on both days.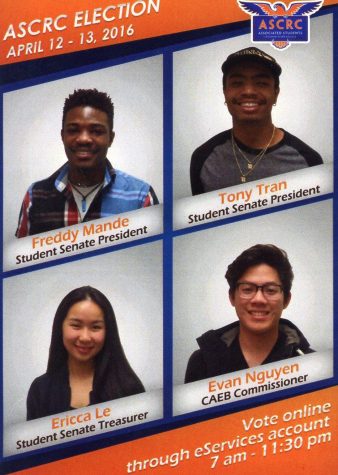 Leave a Comment