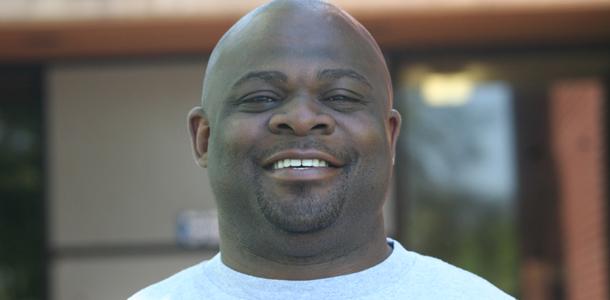 Many people at Cosumnes River College know Daimon Shelton as the equipment manager. However, before he started working at CRC he played in the NFL as a fullback for nine years.
Now, he will be an inductee for the 2012 California Community College Football Hall of Fame. In high school, Shelton's size drew attention from the football coaches.
"I was pretty big for my age so the coach at the time saw me walking around campus and asked me to come out," Shelton said.
After playing running back in high school, he transferred to Fresno City College. Unfortunately, Shelton would lose both of his parents in the same year and take a year off.
"I just kind of gave up on everything," Shelton said. "I quit going to school, just really didn't have a care for life after that."
After losing his scholarship, his coach from Fresno City started coaching for Sacramento State and offered Shelton a scholarship.
"It was definitely a blessing that he ended up there," Shelton said. "I didn't have any other options of continuing school or football."
Then, in April of 1997 came the NFL draft. Shelton, who was 23 at the time, was called to play for the Jacksonville Jaguars in the sixth round, as a fullback.
"It was a transition for me that was pretty tough, you know, going from a glorified position to a non-glorified position," Shelton said.
Shelton said he most loved playing in Jacksonville, calling his top moment "bitter-sweet" because that was the closest he ever made it to the Super Bowl, the playoffs with only two losses. Then they lost to the Tennessee Titans in the AFC championship 33-14 .
After playing in the league for nine years, for the Buffalo Bills , Jacksonvile Jaguars and the Chicago Bears, Shelton had to retire due to injuries.
"I still miss the game but I thank god for the years he gave me," Shelton said.
With an opening at CRC in P.E. and Athletics and a strong suggestion from his old coach, Shelton came to CRC to be the equipment manager.
Shelton is now going into the California Community College Football Hall of Fame.
"When I got the call I did my research and there are some pretty big names on that roster," Shelton said. "It's definitely an honor."
It is statistically unlikely for a player to make it to the NFL, but Shelton believes that with determination anything is possible.
"Step out in faith, work hard and prove what they say is wrong," Shelton said. "If you work hard and put everything into a dream there is no way that you can fail."