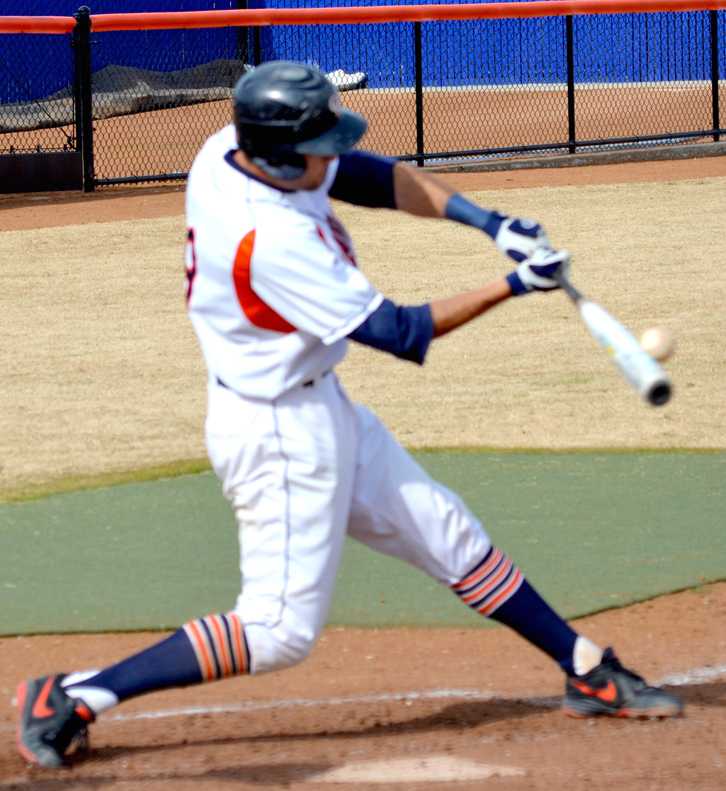 Coming off of a three-game losing streak, the Cosumnes River College Hawks were able to pull out a win against the College of the Sequoias' Giants at Conway Field on Feb. 16.
The Hawks finally broke their losing streak following a final loss to the Giants the day before, ending that game 7-3.
"We're a long ways away from being a real baseball team," said head coach Tony Bloomfield. "We're young and inexperienced. This is the first game that we've been into the game the whole nine innings."
While the team is young and might have lost their previous game to the Giants, neither team gave ground in the second game of the series.
For seven out of nine innings there was no score. Both teams played defense and stopped any runs from scoring.
"We usually play pretty good defense," said CRC freshman utility player Kyle Von Ruden. "The batting is starting to come along. Last game we played a lot better."
Von Ruden managed to pitch six shutout innings for the Hawks.
"Well we pitched well," Bloomfield said. "We played Kyle Von Ruden, [he] did a great job throwing strikes and keeping them off balance. We made the plays for him and Josh Pigg came in and did the same thing."
It was the bottom of the eighth inning when the first run was scored. With freshman utility player Joshua Pigg on first and freshman infielder Adam Castelan on third a line drive to left field by sophomore catcher Bryan Case sent Castelan home for the Hawks' first run.
Shortly after, another line drive to left field, this time by freshman outfielder Josh Cosio, drove Pigg home giving the Hawks their second run of the game.
"[We need to] swing the bat more," Von Ruden said. "Maybe get some more security runs so we're not so tight at the end of the game."
The eighth inning came to an end with the Hawks up 2-0. It was the ninth and final inning that sealed the deal.
A ground ball was hit to Hawks' freshman shortstop Michael Chavarria and tossed to sophomore first baseman Joe Bettencourt, who tagged out Giants' freshman utility Rudy Navarro for the first out of the inning.
Giants' freshman infielder Omar Hernandez hit a ground ball that was grabbed by Bettencourt and tossed to Chavarria on second before Chavarria threw it to Pigg on first for a double play to end the game in a 2-0 Hawks' victory.
"It's better, we finally played a real game," Bloomfield said. "That's a real baseball game. You know it's a good junior college baseball game, both by their team and by our team. We just happened to put the one inning together and put a little pressure on a couple hit and runs and got the runs and held on."