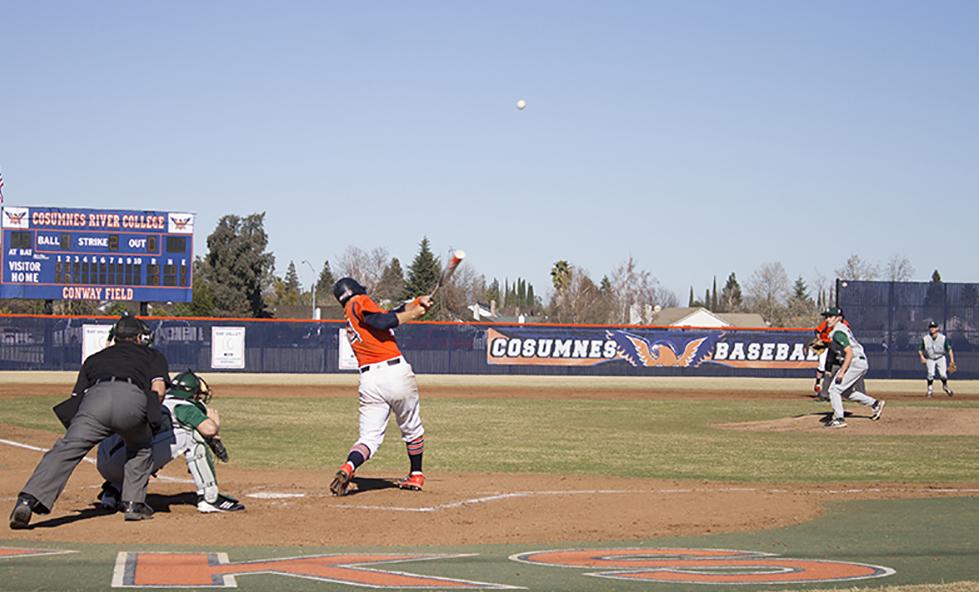 Scott Redmond
The Cosumnes River Hawks came into the first game of the 2014 season, against the Shasta Knights, prepared on both offense and defense.
"I thought it was okay for first day jitters," said head coach Tony Bloomfield. "We've got a lot to improve on, but I think we're okay."
Starting sophomore pitcher Kyle Von Ruden allowed no hits in the Knights' first two innings, setting the pace for the game.
The Hawks' intensity was apparent in the bottom of the second as freshman first baseman Nathan Ahlers, the team's designated hitter, gained a run batted in, which was followed by a second runner scoring.
The Hawks' freshman left fielder/pitcher Zachary Mahon, playing his first game since being injured the season prior, made a hit allowing another runner to score bringing the score to 3-0.
This was followed by the Hawks securing another RBI, courtesy of sophomore center fielder Kasey Chapan, and an error on the Knights resulting in a subsequent runner reaching home plate.
This resulted in the Hawks leading the Knights 5-0 at the end of the second inning.
"All around, pitching was good," said Mahon.
Von Ruden continued holding the Knights to no hits until the top of the fourth.
The Knights wouldn't gain their first run until two RBIs at the top of the fifth inning bringing the score to 5-2.
The Hawks called in freshman pitcher David Smith to close out the game.
"We played real good defense," Bloomfield said. "I don't think we made an error on the day."
Neither teams' defense allowed any more runners to reach home until the bottom of the eighth, when the Hawks scored their final run of the game, closing at 6-2.