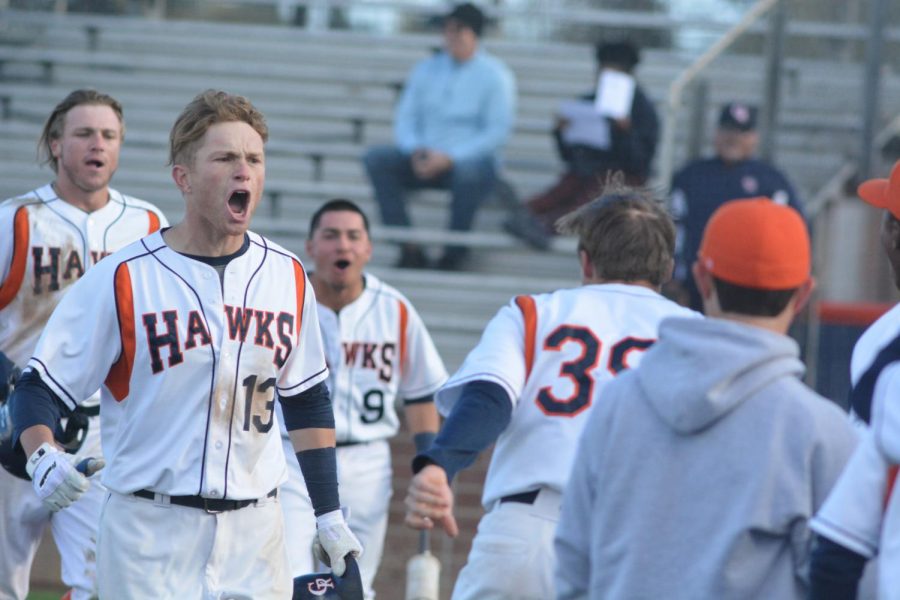 Steve Shuman
Due to rain, the game against the Falcons of Folsom Lake College was rescheduled to March 14 and was the first of a three game series.
In the 11 inning, outfielder Jared Alameida hit a single to right field to end the game, making the final score 6-5.
"This was a big moment for him," head coach Don Mico said. "He's been going through some adversity, and it couldn't happened to greater kid like him on our team right now."
Hawks had four different pitchers play; utility/pitcher John Treat, Nic Wilson, Daniel Vitoria and Corey Potthoff. Treat was the starter and he played till the fifth inning.
Treat gave up three hits and the Falcons took a 2-0 lead.
The Hawks answered back with utility Aaron Pierce scoring their first run and making it a one-run game, by first baseman/left-handed pitcher Joey Pankratz hitting a single in midfield.
"We just got to keep playing hardball, keep playing hard and make the plays," Alameida said. "This was probably our first game all season with no errors."
The next three innings, both teams couldn't score a run.
Falcons' outfielder Michael Farley hit a homerun and took the lead with the score 3-1.
Hawks again answered back with Alameida and utility Aaron Pierce scoring double points to tie the game from a double hit by utility Damien Chavez into midfield.
The score was 3-3.
"As a team we came together and played well," Pierce said. "That's what's it really was about, it's not about stats or anything just winning as a team."
Treat played till the end of the fifth inning and Wilson had his turn to step up. However, he only pitched three with one BB which involved hitting a Falcon player. Vitoria ended up becoming Wilson's replacement.
"Our bullpen was good today they all competed, everyone done pretty good, we got to put the ball into play a little bit more though," Mico said.
Vitoria started off strong by allowing zero runs and shutting down the Falcons in a solid three scoreless innings.
With the scores tied in the ninth inning, the Falcons hit a double with first baseman Andrew Williams hitting a it tomidfield.
The score was 5-3, and again the Hawks answered right back at the Falcons.
Hawks were up to bat with two outs. Alameida was on base and Pierce hit a homerun for 360 feet to tie the game at five.
"I was just trying to make the city proud, make my team proud," Pierce said. "I was just happy to celebrate with my boys after that."
Hawks replaced Vitoria with Potthoff. He was the final pitcher to end this game.
After the tenth inning, neither team could score because of the defense and pitching from Potthoff and Falcons' pitcher Shane Gustafson.
The bottom of the eleventh inning the Hawks were up to bat.
Outfielder Dean Lucas hit a single but stole for third after the Falcons missed catching the ball.
Alameida was up, and he hit a single to right field that allowed Lucas to walk and score on home base. The game ended after a walkout.
The game was a back and forth battle that ended with the Hawks winning 6-5.
"I'm just proud of the way we got to celebrate as a team, I'm just so happy, some guys didn't do well today," Pierce said. "When you look around the yard, no one's not smiling it feels really good."