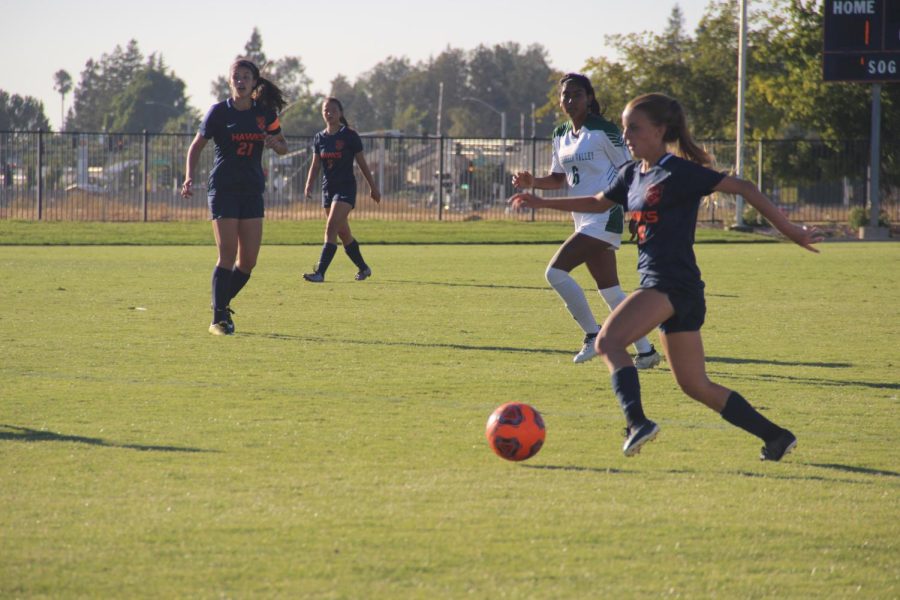 Max Connor
The women's soccer team has a new coach, and, with 19 freshman, expectations for the upcoming season are high.
While the team had a rocky pre-season, going 1-3, they said they believe they have the talent and the drive to make a run at the playoffs this year. The team has missed the playoffs the last two years and new Head Coach Erika Anguiano hopes to get them back to a higher level of play.
"One of my goals as the head coach is to get this team back to the playoffs," Anguiano said. "With the group of players that we got, that's to be expected."
Anguiano has stressed to her team the importance of communicating and having the proper organization on the field to be successful.
"If we don't have shape it will be difficult to create opportunities or goal scoring chances for us," Anguiano said.
Having the right "shape" with players organizing themselves on the field strategically and correctly, is something she spoke of repeatedly as the most important facet of the game for her young team to grasp.
Assistant Coach Brynne Konkel said the team met before the season and that the players set their sights on the playoffs as the ultimate goal but said the team needs to work on having more solid execution to have a chance to reach that goal.
"We need move off the ball, our angles are off and we need to figure out what we need to do to get that vision planted in their mind," Konkel said.
While the team is struggling to build their chemistry and communication on the field, both coaches and players said that the the team has very good chemistry as friends and teammates. The question is whether that chemistry will begin to show itself on the field as well.
Although the team has struggled early in the season, Anguiano said effort has not been one of their issues.
"They battle as a team," Anguiano said. "The collective effort is great."
Players on the team said they agree with their coaches assessments on the struggles they are having to start the season.
"We need to work on connecting," said Freshman midfielder Taya Bradford. "I think we have solid ideas but we need to connect more passes."
Bradford's teammate and twin sister Bailey Bradford, a freshman midfielder, agreed and put the ideas of connecting and shape an even simpler way.
"Just possessing, we can definitely improve on possessing the ball," Bailey Bradford said. "And passing the ball instead of just kicking it though all the time."
With the regular season having started Tuesday and the Hawks falling to Sierra College 2-1, time is of the essence if the team hopes to improve upon their on-field chemistry and string together some wins.
That said, Anguiano remained optimistic.
"It's nothing to worry about this second, it's just a bit of a shaky start," Anguiano said.