Event highlights study abroad programs outside the U.S
September 16, 2019
Students filled up the Orchard Room inside the cafeteria on Sep. 4 as information on Los Rios studying abroad opportunities for the school year were being discussed.
Los Rios School District offers five educational courses that not only allows students to study out of the country but also earn transferable units for universities.
"People have said the best way to expand yourself is to go to another country," said History Pr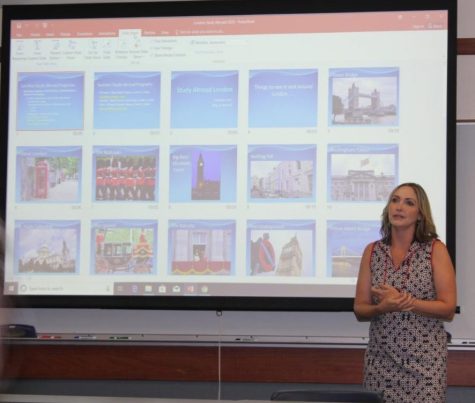 ofessor Diana Reed. "You not only learn about that place and those people, but you also learn so much about yourself and your country."
Folsom Lake College Sociology Professor Diane Carlson started the meeting with an introduction about studying abroad in Florence, Italy in Spring 2020. During the semester abroad, she said students will be studying the Italians' history and lifestyle. 
Carlson also said there will be visits to some of the most well-known places in Italy such as Rome, Pompeii, San Gimignano and Venice. 
In partnership with the American Institute for Foreign Study, students will have access to all the help they may need while in Italy such as medical issues or directions around the city.
The deadline to register for the spring semester abroad in Florence is Sept. 27 and the application deadline is Oct. 25. 
Reed then followed up with information on the Florence Summer Studying Abroad program in 2020. Though it is shorter than the spring semester program, Reed said students will still be able to do plenty during their five weeks there such as museum tours, personal guided wine tasting, a trip to Rome and much more.
The deadline to register will be on March 6, 2020. 
Kelly Torres, a 22-year-old psychology major who attended the meeting, expressed her interest in studying in Florence over the summer. 
"I've never been out of the country before, but I feel that this will be a great opportunity for me to explore on my own," Torres said. 
The London Study Abroad Program 2020 was then presented towards the end of the meeting, giving students the chance to consider visiting places such as the Tower Bridge, the Shard, and the famous British Museum during the summer.
Knowing these programs will cost a great amount of money, Reed recommends students to apply for scholarships or get financial advice from the Financial Aid Office. Reed said a common scholarship that students apply for when planning to study abroad is the Gilman Scholarship.
As the meeting came to an end, students left with flyers and informational pamphlets as reminders of when the registration deadline for each program is. Students can also find all the contact information on there or go on any Los Rios School District site for further questions. 
"Studying abroad is one of those things that you don't know is important until it actually happens to you," said Carlson.