Hip-hop kings return to the "Throne"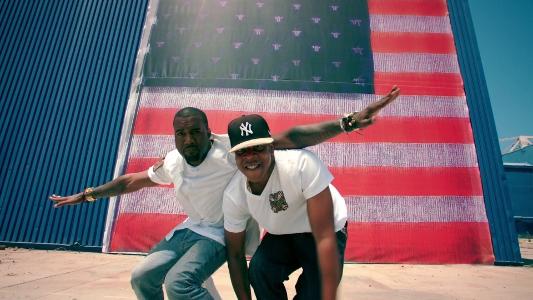 If you reserved your excitement to avoid disappointment for the highly anticipated  Jay Z and Kanye West "Watch The Throne", release date August 8 , its fine to forgive yourself. It is indeed as special as it sounds.
Both emcee's drew the model for rap artist of the 2000s, with two releases each ("College Dropout", "Graduation", "Blueprint, and "The Black album"), so it's quite fitting that they collaborate for a statement of mastery a decade later.
The album's title is not just an arrogant jab at competitors, but rather a challenge to peers, to not only create hip-hop with artistic integrity and commercial sensibilities but to do so out of responsibility to preserve the culture.
Think coliseum-rap; the majority of the production pulls from lush layers of multiple genres (rock, dub step, soul ) along with ever changing song structures. West mixes these styles with taste and accessibility in mind, so the listener does not suffocate underneath the sound. Lyrically, both artists sound out right fearsome allowing their technical abilities to match their Olympic persona's.
Yet, what truly makes the album interesting is how many times these men expand their subject matter beyond their wealth.  As Swizz Beatz and S1's (of "Power" fame) haunting drum focused production on "Welcome to the Jungle" sets the atmosphere, it simultaneously drives the lyrics by attacking the speaker. Jay , who perfected aloof bravado in rap, shouts rare vulnerability "Where the fuck is the press? Where the fuck is the Pres? Either they know or don't care, I'm fucking depressed".
Make no mistake, the album is very listenable. In no place on the album is this more evident than the provocative and unfairly infectious song "That's My Bitch". West's brash yet sensual lyricism fits perfectly over the hazy flip of the classic "Apache" break beat.
Where most rapper's sexual imagery are more video vixens in bikinis, West's  artistry likens more to a risque, Louis Vuitton photo shoot." Twisted love story, True Romance, Mary Magdalene from a pole dance. I'm a freak, huh, rock star life. The second girl with us, that's our wife."
Even in the more shallow moments i.e. "Niggas in Paris" Jay and West's money talk is undeniably more entertaining and admirable than bonus announcements from Banks.
What may be disappointing about the union is that both titans are forced to minimize their titan like characteristics to accommodate the other ( sorry Ye).
None the less, the final product is unmistakably distinct from any of its contemporaries-whether or not you watch the throne closely.