Smashburger delivers a spin on the classic burger
If a large, juicy, all-around American burger is what you desire, then Smashburger is the place to go.  With an upbeat environment, a vast menu and great customer service, Smashburger earns its spot as one of the top local burger joints.
Smashburger, located at 7701 Laguna Blvd., held its grand opening Feb.1, and was greeted with long lines of customers that wrapped outside the front door.  Smashburger surprisingly pumps out burgers and serves its customers in a quick and efficient manner which effectively eliminates the dread of long lines.
Upon entering the restaurant, customers are introduced to a unique modern industrial design with adequate lighting inside and out.  The seating can sufficiently seat large crowds of burger lovers.
Smashburger portrays a casual, relaxing and fun environment to eat and is supported by its extensive menu.  Although some of the items on the menu may be a bit expensive, they definitely earn their price in quality.
Expectantly, their burgers are the focal point.  The manner in which their burger patties are made exactly how the name implies.  They take a large ball of burger meat and smash it down with an iron press, leaving customers with a great sized, flavor-filled burger that sticks outside of the bun.
If the burger is not your thing don't worry. Smashburger also has a wide variety of all-white meat crispy or grilled chicken sandwiches, complemented with a large list of sauces, toppings and buns. You can't go wrong with a burger or chicken sandwich.
The list however does not stop there.  They have varieties of veggie burgers, hot dogs and sides such as traditional fries, sweet potato fries, haystack onions, fried pickles and hearty beef chili that will definitely satisfy.
Smashburger also offers a veggie frites side and a variety of salads for the vegetarian individuals. To wash it all down you can either go with classic fountain sodas, iced tea or delicious Häagen-Dazs shakes.  Smashburger's menu provides plenty of delicious meals and sides that are sure to please even the pickiest of customers.
    Customers are sure to leave with smiles on their faces and a delicious feeling in their stomachs.  Manager David Cannon, 43, who has been running restaurants for 23 years, emphasized that great customer service is the main expectation of his employees.  With the speed, quality and politeness of his employees, it's clear that Cannon's expectations are being met.
Smashburger provides everything one would want in a great American burger joint.  With a delicious menu, upbeat environment and employees that are dedicated to their customers, Smashburger deserves a visit from all individuals.
About the Writer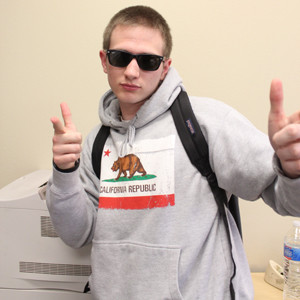 Cody Durham, Former Staff
Serving as a staff writer, Editorial Sports Assistant & Sports editor, Cody was part of the Connection staff for three semesters. A semester of assisting...