Cosumnes River College filmmaker inspired at young age by 'Titanic'
Cosumnes River College student Christopher Bruton, 22, has always been inspired by the idea of film and cinema.The directing and writing film major enjoys the process that goes into making a film and wants to make people think.
"I can't draw, so the only way of me being creative is through photography," he said. "I love the idea of creating something that few people will understand."
Bruton got into filmmaking at a young age and credits the movie "Titanic" to his early work.
"When I was 8, I saw "Titanic" and I was blown away," he said. "I didn't say one word for the entire three hour and 20 minute film. I had never been sucked into a film like that."
Bruton said he likes the fact that film hasn't been around a long time. He also added that his style ties into existential thought.
"I love thinking outside reality and time," he said. "A lot of what I do is representative of something."
Currently, Bruton is busy writing scripts for films he hopes to complete. However, he noted that filmmaking does not have to always make sense or be of great importance.
"Filmmaking is not important, it's completely meaningless," he said. "That's what I love about it, film is what you put into it."
After Bruton completing his film studies at CRC, Bruton plans to attend Colorado Film School in the fall.
"Perception is all through the lens," he said.
For updates on Bruton's work, check out his Facebook page at "Christopher James Bruton."
Leave a Comment
About the Contributor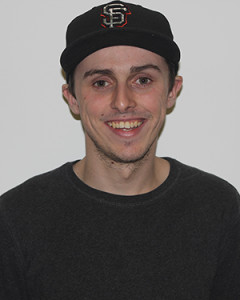 Zach Hannigan, Former Staff
In his six semesters on The Connection staff, Zach served many roles including twice as Editor in Chief and Sports Editor and ending as the Online and...