Create and express yourself on Pinterest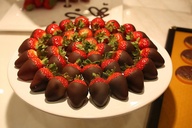 If you're into social media sites, posting pictures or just looking at pictures, you might like the latest social media website, Pinterest.
I am one of those people who are always up-to-date with the latest trends, especially when it comes to any social media. So when I heard about Pinterest, I was eager to create an account.
However, in order to join Pinterest, I had to wait on a waitlist to get my account activated, which every prospective user has to go through in order to join Pinterest.
Pinterest is similar to the popular blog website, Tumblr, combined with Apple's photo application, Instagram. Pinterest is all about posting up pictures onto your site along with a little caption.
When new users first start, they are given a "Pin It" button that is saved to the toolbar. The "Pin It" button is used when users come across pictures online that they like. When they pin the photo it automatically goes to the users' website. Users can also upload their own photos, as well as create different categories for pictures they post or repin.
Pinterest is a great way to share photos that interest individuals. There are many different categories and users can also add their own categories.
Users can post and/or repin pictures of things they're interested in such as clothing, food, travel, music, and books as well as post pictures of favorite vacation spots and old photos.
My experience with Pinterest has been interesting. I've come across many interesting photos that have given me ideas for decorating my home, what style of clothing I want to buy next, where I would like to travel and what kind of food I want to try cooking.
So if you're into the latest trends, expressing yourself through photos or just like looking at what your friends and others have to share, find an interest in Pinterest.
Leave a Comment