Northern Californians share a celestial event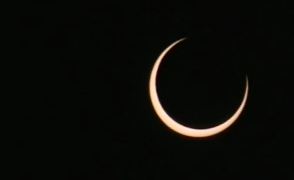 A rare annular eclipse dimmed the skies of Northern California on May 20. It could be viewed in North America from California to Texas.
Sacramento news channel KCRA has been posting coverage for more than a week. They began on-line video coverage of the lunar eclipse at 5 p.m. It was one of the safe ways to watch the annular event.
"Sal has a number 14 welding mask so we are all set up for the solar eclipse today," posted Monterey Trails high school teacher Cindy Lascola on her Facebook page.
Sacramento resident Michelle Joy Gallagher made a pinhole viewer with a cereal box to view the eclipse with her kids.
There were a lot of people buzzing about the eclipse on Facebook.
This type of celestial event rarely happens.
This was the first annular eclipse of the 21st century in the continental USA. We will not experience another in California until Oct. 14, 2023.
An annular eclipse is different than a total eclipse since the moon doesn't entirely block out the sun. Many people were excited about seeing a "ring of fire" which was visible as the sun's corona peeked around the moon.
During this event, the moon wasn't a perfect circle centered on the perfect circle of the sun; it was offset just slightly creating a "C" or a smile effect.
"Kinda awesome what the eclipse has done to the tree shadows," Sacramento State Junior Kathleen Sanderson posted on her Facebook.
As silently as the celestial event began, it was over by 7:30 p.m. and the sun began its usual silent descent.
The next celestial event will be the Transit of Venus on June 5.
Leave a Comment