Martial arts philosophy teaches brain over brawn
Jackie Chan, Bruce Lee and Jet Li are just a few names that probably come to mind when the words martial arts are mentioned in casual conversation, along with a visual of people punching and kicking their way through any problems that come their way.
Martial arts is about fighting and defeating other people after all, right?
Professor Rick Schubert and his Honors 364 students might beg to differ. That's because they are part of a class only offered once every two years called philosophy of the martial arts.
"[It] allows me to pursue the two central interests of my life simultaneously, martial arts and philosophy," Schubert said. "I started training martial arts when I was 6 years old and when I was a teenager I became interested in the intellectual foundations of traditional martial arts practice.
Unlike traditional lecture classes "the students are as responsible as the instructor for the presentation of the course material," Schubert said.
With it being an honors class, students that are enrolled within the class must also be part of the Honors Program to stay enrolled in the class. The Honors Program is "specifically designed for academically accomplished students and for those students with the potential for high achievement," according to the Honors Program website.
"The course is an honors seminar, and honors seminars at CRC are designed to provide students with a freshman seminar experience," Schubert said. "Ultimately we want to train students so they can engage in the scholarly process and in the seminar, the freshman seminar, we give students a peek ahead at what it will be like to be graduate students."
The course syllabus describes the class as providing "both the opportunity to appreciate the eastern philosophical underpinnings of an activity that has become part of mainstream American Culture and the opportunity to experience the rigorous application of contemporary analytic academic philosophical methodology."
While the use of martial arts in the title might bring some different images to the mind of many, those that have enrolled within the class were not of that mindset.
"I think actually I'm going to learn a lot about doing the equivalent of research," said 19-year-old equine science major Sarah Hutter. "So writing papers in philosophy and how that process works and what to expect to do when writing a philosophy paper and how they are presented in an academic atmosphere."
Learning actual martial arts might not have been what drew any students to the class, but a well-known martial artist was part of one student's choice of taking the course.
"I actually came here with an open mind, I always admired Bruce Lee so it inspired me to take the class," said Nse Akang, a 50-year-old sociology major. "But having been here the last few weeks I would say that it's a good way to be introduced to eastern philosophy."
Gaining a peek at and experiencing a graduate level seminar was the bigger picture for the class, but Schubert hoped that students took something much more from the class.
"I want students to leave recognizing that some of our everyday ordinary activities, even what for most people are recreational activities, raise questions of serious philosophical interest and are worth serious philosophical pursuit," Schubert said.
Leave a Comment
About the Contributor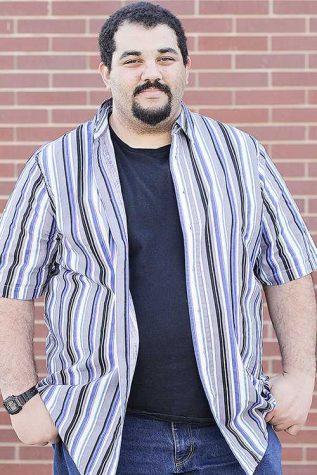 Scott Redmond, Features Editor
Features Editor, spring 2015. Editor-in-Chief & Sports Editor, fall 2014. Editor-in-Chief & News Editor, spring 2014. News Editor, fall 2013. Online...