"Evil Dead" chronicles the kind of madness that could ensue when the characters are faced with an unreliable rule-maker. The characters, as stupid as horror movie victims go, put their trust in the writings of an evil book to survive the night, the same book that's trying to eat their souls.
After a brief prologue, the film begins with an intervention. Mia (Jane Levy, "Suburgatory"), with the help of her brother David (Shiloh Fernandez, "Red Riding Hood"), his girlfriend Natalie, played by Elizabeth Blackmoore ("Legend of the Seeker"), and friends Olivia and Eric, played by Jessica Lucas ("Cloverfield") and Lou Taylor Pucci ("Carriers"), travel to a decrepit family cabin in the woods to help her quit her heroin addiction.
Drugs become the least of their worries when an ancient tome is discovered in a secret cellar at the bottom of the cabin. Eric, probably the life of the party at whatever college he flunked out of, reads an incantation aloud despite being warned not to and the terror begins.
Bound in human flesh and inked in human blood, the book provides all of the laws the audience will become accustomed to on this terrifying evening. We learn how possessions are completed, how souls can be saved, and how many are required to be feasted upon to awaken the worst demon of them all.
If it weren't for the last 20 minutes of the film, I'd say "Evil Dead" does nothing new. You have your bathroom mirror scare, your loud bangs that turn out to be nothing, and above all, some laughable decisions that lead to deserved deaths. The story is weakly constructed, secondary to all of the gore and cheap tricks that the audience is paying to see.
But a surprising climax helps redeem the film. Some will say what happens makes no sense. Others will demand that you not look into further, since it is a horror movie. I say it's a deliberate incongruence, a breaking of the laws it establishes and fools you into trusting.
Not stopping there, the film also questioned my trust in certain conventions filmmakers are accustomed to abiding by in order to communicate and solidify certain ideas.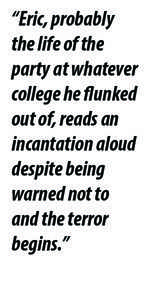 An example: death in movies. There's a universal way of indicating that someone's dead that I'm comfortable with, since so many movies do it. Typically, a final close up shot of the dying character will have his or her eyes close, or their breathing will stop, or there'll some kind of sign that says "this character just died".
One shot, where David's girlfriend has been saved by dismemberment (or has she?), has her lying on the floor, life inching away. At the moment where I expect to see some kind of red flag to show that poor Natalie is dead and free, the film moves on to the next scene, and we never see her again. We can assume that she's dead, but if we look at Hollywood's way of doing things, can we be sure? The same thing happens later on with a different character, and they turn out to be alive.
Whether the film intended to or not, it makes you aware of how we latch on to rules to keep a firm grasp on what's really going on. Otherwise, things don't make sense, and when the film's rules are provided by a book that's clearly up to no good, can you really trust anything it's telling you? There's plenty of blood and horror here, but if you're as tired as I am of it, "Evil Dead" adds a little more than spectacle if you can make it through the night.