Over his 41 years at Cosumnes River College, kinesiology professor Travis Parker has pushed students and sports teams alike to their limits. However, this will be his last year doing so as he has announced his retirement.
Parker's decision to retire stems from a recent diagnosis of scleroderma, a chronic autoimmune disease. Parker notes that he had been considering retirement before the diagnosis.
"I felt that [fall 2012] was my worst semester as a teacher because I wasn't able to demonstrate and jump in," Parker said. "There were days when I was in pain."
Parker's retirement is met with sadness from students, especially those who have taken multiple semesters under his instruction.
"He's great! [He's] very hard, he pushes you hard," said Akili Daniels, a 36-year-old former television and film major and current student of Parker's. "It sucks [that he's leaving], especially because of health reasons."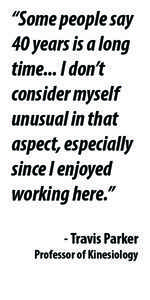 Since joining the CRC faculty in 1972, Parker's career has been filled with accomplishments. In addition to teaching seven classes each semester, Parker has also coached cross country and men's track.
In 1979, Parker started the first intercollegiate soccer team in the Los Rios District, coaching both men's and women's divisions for several years. Parker has also served as CRC's athletic director and dean.
While this is already a lengthy list of accomplishments, it does not end there. Parker has been a member of the Alpha Phi Alpha Fraternity, Inc. for 31 years, and under this fraternity co-founded the Alpha Academy.
The Alpha Academy is an Afrocentric program established nine years ago that aims to provide male youth with "mentoring, character education, and life skill training." In addition, the Alpha Academy provides tutoring for boys and girls of all ages.
Through the Alpha Academy, Parker also created the Martha Parker scholarship, named after his mother, which is available to Alpha Academy students.
Parker also arranged for and organized Cornel West's visit to CRC in January.
Throughout his career, Parker has been inducted into the California Black Athletic Hall of Fame and the California Community College Soccer Coaches Hall of Fame. Parker has also received numerous awards including the Hayward Award for excellence in education.
Most recently, Parker was inducted into the International Educators Hall of Fame following the announcement of his retirement.
The list of Parker's activism and accomplishments continues to go on, and he states that he is very satisfied with how his career has gone.
"Well, it's been what I would consider a great run," Travis said. "Some people say 40 years is a long time … I don't consider myself unusual in that aspect, especially since I enjoyed working here. My wife used to say 'you don't really have a job, you like it too much.' And that's true."
Colleagues of Parker are sad to see him go, but are happy for his satisfaction of his lengthy career.
"I have a long history with Travis, I played [soccer] for him in 1981 and 82, I coached with him from '93-'97," said Cesar Plasencia, kinesiology professor and colleague of Parker's at CRC. "I'm really happy for him, he's had a very fulfilling life … I wish him the best in his retirement."[singlepic id=239 w=300 h=300 float=right]
Parker's educational philosophy has played a large part in his enjoyment of his job.
Typed on a gray sheet of paper, Parker's philosophy opens with "I am the world's wealthiest man because I stand at 'the place for which my father sighed,'" explaining that he has achieved things his father had dreamed of.
He has specific and detailed examples of what he believes are the roles of educators and in the final paragraph of his philosophy, he states "I desire to share my wealth by helping students succeed."
With all of his activism, accomplishments and recognition, Parker has arguably attained this goal several times over.
Parker plans to stay involved in CRC by joining the Emeriti Association, where he will still be able to interact with both students and faculty. Even in retirement, Parker plans to hold true to and practice his educational philosophy.