Anthropology department seeks to make education fun and exciting
Attendance has shown that anthropology is a popular class to take for fulfilling general education requirements. However, there is a lot more to Cosumnes River College's anthropology department alongside the charming chimps and lethargic apes.
CRC's anthropology department has worked exceptionally hard this semester and many past semesters to make the educational experience one of a kind for students. Anthropology professors and students have attended multiple conferences, offered the Cosumnes River Archaeological Working Lab, coordinated Women's History Month and participated with the Sacramento Zoo.
"I think there are a lot of people who are unfamiliar with anthropology and what it is," said anthropology professor Shannon Mills. "And to those people, we say to just come check it out because there's so much more to it than people really understand."
The anthropology department took on a big task in coordinating Women's History Month in March. Between scheduling events and encouraging people to attend, the department's full-time and part-time members stayed dedicated throughout the month-long event.
"We really spearheaded the whole thing. We established a committee and worked to get everybody involved," said anthropology professor Amanda Paskey. "I thought it turned out pretty amazing. We took on more than we could probably handle, yet we still pulled it off."
Marcos Martinez, a 21-year-old anthropology major, found out he wanted to major in anthropology when he took his first archaeology course.
"We have a really great club," Martinez said. "There's so many activities, we're always raising money and doing on-campus events. It's so nice to have such a great group of people who like the same thing that you do."
Another thing that the anthropology department has been devoting time to is the CRAWL lab. These are independent studies that allow students interested in archaeology to work on post gold rush artifacts from a historic site in Old Sacramento.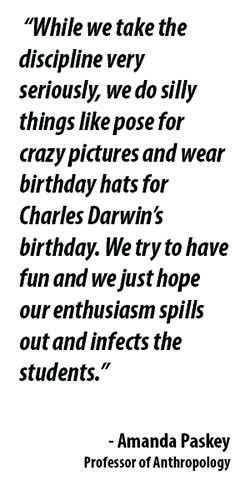 "We're taking these collection of artifacts and recataloging them," Martinez said. "We've had a few events already where we have done poster days and such for the lab. Even if you don't care about the subject go and take a class anyways. I promise you will learn something new."
There are multiple anthropology conferences that CRC students and professors attend together.
"We are very well represented at these conferences," said anthropology professor Priscilla Loforte said. "Even from our students."
The next anthropology conference they will be attending is going to be the American Anthropological Association conference this upcoming November in Chicago.
The anthropology instructional assistant Grace Cesario has played a big part in assisting students with their anthropology courses and guiding them through some of their projects.
"In the lab we talk about bones, cultural anthropology and primates," said Cesario. "There's so many opportunities at this college that I didn't even think people could ever get at the community college level."
The department has been working with the Sacramento Zoo this semester in the Anthropology 301 lab where students get to go observe primates for the primate observation project.
"Students get discounted passes so they can continue to go back to the zoo to continue their research on primates," Mills said. "It's really a great project that they get to do with us."
Despite the discipline of the anthropology department, the staff said that they make education fun and exciting.
"While we take the discipline very seriously, we do silly things like pose for crazy pictures and wear birthday hats for Charles Darwin's birthday," Paskey said. "We try to have fun and we just hope our enthusiasm spills out and infects the students."