Professor inspires students, staff and faculty
Positive attitude key for professor, breast cancer survivor
Having a friendly demeanor, an obvious passion to help students and a sense of humor throughout class while maintaining a positive learning environment: these things can describe many professors on campus.
What makes Jeanne Calamar unique?  She is a three-time breast cancer survivor.
The assistant athletic director and professor of adapted and physical education returned to Cosumnes River College this semester after her second surgery and third battle with breast cancer.
"It's not fun to have, but it has made me a stronger person," Calamar said. "I grew more as a person after having breast cancer than I did my entire life before it."
Calamar's experiences have allowed her to support others.
"She's the best person to go to when you're having a bad day," said Tina Nguyen, 36, a confidential administrative assistant. "She'll make you crack up no matter what, she's great."
Nguyen is also a breast cancer survivor, having battled the disease beginning in 2010.
"I see her as my role model because I've been going through breast cancer," Nguyen said. "She was very helpful, she kind of got me through it, not to be scared, that life is not over, she's always positive."
Students also feel strongly about Calamar, her influence on their lives, her positive attitude and position as a role model.
"Jeanne is inspiring," said Gracie Sanchez, a 19-year-old kinesiology major and Calamar's student aid. "She's super talented, she's such a great person to look up to as a professor."
Humor is a big part of who Calamar is, and it's obvious to anyone who spends time with her.
"She is so funny," Sanchez said. "She's so easy to talk to, she's such a great person, super funny and makes you feel really comfortable."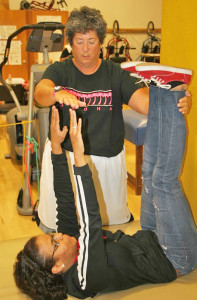 One student is in Calamar's adapted p.e. class after having spinal fusion surgery.
"She's very helpful, if I can't do something she's always adapted it for me," said Katelyn Ellis, 20, a television production, photography and digital media major. "She's really helped me to move since I had my surgery, I am able to lift things better, I'm actually able to transfer better now."
Calamar has equal, if not greater, enthusiasm for the class and what it can do for people.
"I love my job," Calamar said. "I really like working in adapted p.e. and seeing the progress that all the students make."
Calamar is also an accomplished athlete and professor.
In college she played basketball, softball, volleyball, soccer and team handball, in which she trained for the Olympics.
Because of the U.S. boycott of the games, a result of the 1979 Soviet invasion of Afghanistan, she didn't go, Calamar said.
Calamar remains humble about her accomplishments, never mentioning that she was awarded the Adaptive Physical Educator of the Year in 2010, selected by the California Community College Physical Educators.
Another professor of physical education, Cheri LaDue, was hired the same year as Calamar, and spoke of her commitment to her students and profession. The two have worked closely together for over 10 years.
"She's probably the hardest working individual I've ever met, she's overcome a lot of obstacles," LaDue said. "She's stubborn when it comes to being put down, as far as having to lay low, she doesn't like that. She's super strong and committed to getting healthy, a real inspiration to a lot of us."