Grandpa behaves badly in newest 'Jackass' movie
The author gives the movie a score of 3.5 out of 5 stars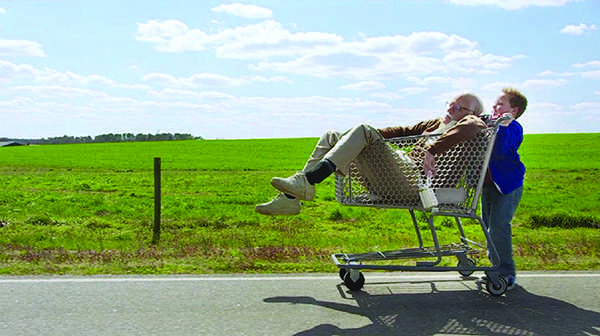 Johnny Knoxville, the creators of the MTV franchise "Jackass" along with Paramount Pictures are back at it again in "Jackass Presents: Bad Grandpa."
The film is the fourth installment of the "Jackass" movie series and is directed by Jeff Tremaine, who also directed the previous three.
Knoxville plays 86-year-old Irving Zisman, a character he initially used while performing pranks on the final season of the TV show.
Zisman finds out his wife has just passed away, finally freeing him and Leroy (name for his genitals) from marriage to once again play the field and chase some tail.
As Zisman sets to philander around since Ellie (Catherine Kenner) has kicked the bucket, his drug addict daughter Kimmie (Georgina Cates) is set to return to jail, leaving Irving to lead his grandson Billy (Jackson Nicoll) on a whirlwind road trip across the country so that he can live with his dad Chuck (Greg Harris) in North Carolina.
On the way, Irving and Billy perform various stunts and pranks from grocery store encounters to pageant show escapades; some of the scenes were shot right here in Sacramento, all featuring real people who are clueless about their participation.
The film shines with the real-time reactions of innocent bystanders and even left me wondering how cameras were hidden in the angles and spots they were.
Everyone in the theater knew what to expect from the daredevil prankster Knoxville, but Nicoll is not to be thrown to the side.
After initially just being along for the ride, Billy begins a connection with Irving and finds himself engaging real-life improvisation at 8 years old acting as Knoxville's Robin to his Batman.
While the previous films in the series include no plot at all and are more of a prank and stunt montage, "Bad Grandpa" keeps its plot throughout the film, which is a pleasant surprise.
Overall, if you are thinking about coughing up the $10.50 for "Bad Grandpa" you should know what to expect from the film.
Knoxville nor Nicoll will get nominated at next year's Academy Awards for the performances they put on, nor will Jeff Tremaine for his cinematography, but the movie did do what it was intended to do.
If you're a fan of the "Jackass" series or looking for a good late night laugh, then "Bad Grandpa" will not disappoint.
Leave a Comment