Students learn failure can be positive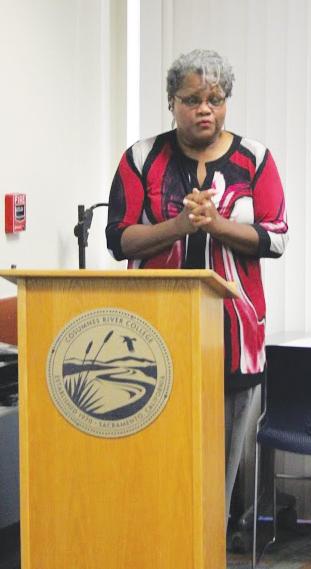 The Orchard room at Cosumnes River College on Oct. 25 was alive and well as a full crowd was on hand for the "Turning Mistakes into Success" workshop.
The workshop is a part of the Extended Opportunity Programs and Services Fall 2013 workshop series and was hosted and presented by Professor and Campus Life Coordinator Winnie Moore LaNier.
"The purpose of it was to introduce people to a new way of looking at failure," LaNier said.
As the name suggests, the workshop was about reaching success by changing your outlook and attitude on failure.
In order to become successful one has to change their definition of failure, LaNier said.
Don't look at failure as an instance where you failed one time, but look at failure in the bigger picture, LaNier said. Failures should be seen as learning opportunities where people learn from their mistakes by making the necessary adjustments so that they don't repeat those same mistakes.
"Failure is not avoidable, objective, irreversible, final, an event, the enemy and a stigma," according to a handout from the event. "Success is a process where mistakes are inevitable encounters in your day to day life and is determined by your ability to alter those mistakes."
The wrong approach and attitude to failure emanates from and is perpetuated by fear, according to the handout.
"People are afraid to fail in general and that they are programmed to see failure as being a bad thing that happens," LaNier said. "So this workshop looks at failure and looks at it from the standpoint of minimizing the fear of failure and looking at it as a tool to move forward."
To rectify this fear, people should give themselves chances to fail, even if it means to fail on purpose, as a way to overcome their fears so that they can become accustomed to making mistakes and better learn to deal with failure in order to help them become successful, LaNier said.
"Relationships make or break you," LaNier said. "So much of your success depends on who you work with and your ability to get along with those people."
There are four factors that can ultimately determine one's success. They are relationships, equipping, attitude and leadership, according to the handout.
LaNier explained that failure can be a healthy experience and that it can get you ahead in life if one has the right approach. She called this approach "failing forward" and distinguished it from "failing backward."
A way to tell if you are failing backward or forward is to align yourself with the elements in each category and whichever one you relate to more tells you the path you are on.
If you're always blaming others, repeating the same mistakes, expecting never to fail again and constantly thinking of yourself as a failure, then you are failing backwards and putting yourself on the path to utter failure, according to the handout.
However, if you take responsibility, learn from your mistakes, maintain a positive attitude, understand that failure is a part of the progress to success and persevere, then you are failing forward and one step closer to reaching success, according to the handout.
Katelynn Rodriguez, 20, a criminal justice major, thought the workshop was good, but that it could have been longer.
"I really honestly just think that we needed more time. She set it up for an hour and the one she gives at other places is two and a half hours, so I really think we just needed more time," Rodriguez said. "I think it would have been more informative."