Jazz music and family at center of 'Side Man'
As the lights went down in the Black Box Theater, a crowded audience waited for the opening scene of the Cosumnes River College theater department's latest production, beginning on Nov. 8.
This month, theater students will be presenting "Side Man," a young man's story about the life of his father Gene (Alexander Stallings), a talented jazz musician trying to make ends meet, and his rocky relationship with his alcoholic wife Terry (Cate Hatfield).
Clifford (Ryan C. King) narrates the early years of his parents' life together and the difficulties of finding work as a jazz musician in the 1950s. Rock 'n' roll was beginning to take off and overshadow the popularity of jazz music, and it takes a toll on Gene and Terry's relationship.
"
Any play tends to be about human conflict and human relationships."
— Professor Scott Gilbert
 "Any play tends to be about human conflict and human relationships," said director and theater arts Professor Scott Gilbert. "It's about [Clifford] and his family and his experiences and why he grew up the way he did, but it's also about jazz musicians and in the view of the playwright, a disappearing breed of jazz musicians."
The show goes through the 1950s to 1985, when Clifford is an adult and now trying to make a life of his own. As Clifford grows up, he describes key moments in his life and some dark days that he and his parents experience.
"Basically the whole play is [Clifford] explaining that home environment was," Gilbert said. "It kind of shows how this marriage between this young girl and this jazz musician turns from romance to a horrible disaster like so many relationships do and how [Clifford] coped with it and what he had to do to get out of it."
For a group of mostly young adults who have much more to experience in their lives, this play touches on some dark issues along with deep human emotions and harsh conflict between characters.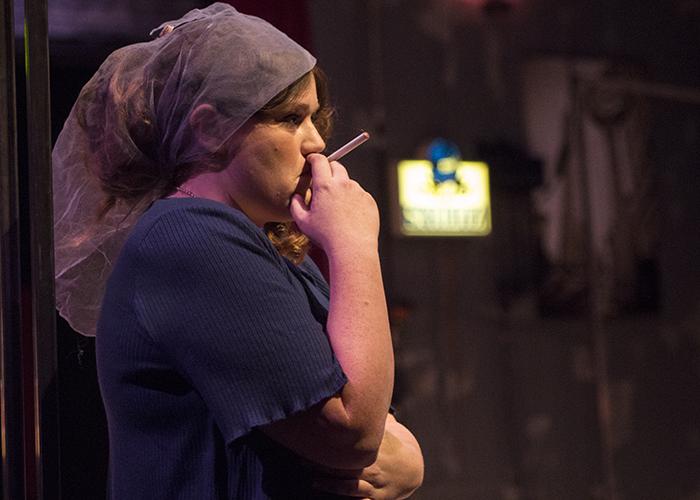 "It is a comedy, people walk away laughing. But there are some really serious issues," said Cate Hatfield, a 23-year-old theater arts major. "I've never been in these kinds of situations, but it's just picking from different life experiences and going to a really dark place," Hatfield said.
Each actor has spent a lot of time studying and developing their character for this production, but due to certain unexpected circumstances, Samuel Ancheta Jr. had to step down from playing the lead character. Ryan King, a 19-year-old theater arts major, volunteered just two days before opening night to play Clifford.
King, who was one of the stage managers for this production, has performed in theater productions before but wanted to explore other aspects of the productions.
"Before stage managing I primarily wanted to act," King said. "It's kind of nice to get back into it, but kind of in an unexpected, weird way."
Gilbert expressed his concerns about having to switch cast members only two days before opening night, but he was positive about the outcome and how the rest of the cast was reacting.
"He's doing a good job, and it's going to work out well," Gilbert said. They've all pulled together and it's been good. Everybody has been very supportive."
The rest of the cast also seemed to be adjusting very well, as the production ran smoothly and King played his rather unfamiliar role quite confidently and was well received by the audience.
"Ryan took a huge leap to do this. We're very thankful that he stepped in when he did," Hatfield said.
Even with a rather large bump in the road, the production of "Side Man" was quite entertaining and thought-provoking.
Hatfield expressed that she hopes the cast can pull off the production, and it seems as though they have been successful.
Leave a Comment