Sacramento's music scene is celebrated and awarded during annual event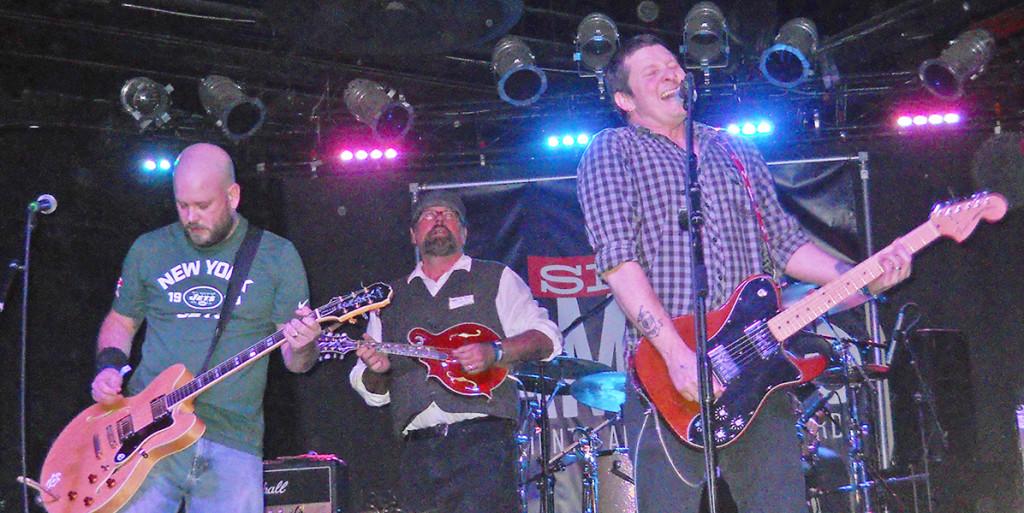 With an electrifying atmosphere that rumbled the body and deafening music that stunned the eardrums, the Sacramento News and Review's 22nd Annual Sammies was everything it said it would be and more.
This year's event was hosted by and held at Ace of Spades, a music venue in downtown Sacramento, on Nov. 8.
The Sammies is an annual awards ceremony that gives recognition to the achievements of artists and bands in the Sacramento area by giving out awards to the winners and features musical performances by artists and bands in the Sacramento area, according to an article by Sacramento News and Review.
Artists and bands from a variety of genres were all brought together under one roof making for one diverse and spectacular show that was sure to satisfy everyone's musical taste buds.
Brandon Amelil, 28, a member of the Tao Jiriki band, said his experience at the event was amazing because it brought together a group of people who share the common cause of supporting local artists and music.
As good as the music was and the event overall it is not without criticism.
Jessica Burke, who also goes by Jessica Wabbit, 34, a promoter and artist herself, said the event overall was amazing, but expressed her displeasure with the fact that some artists and bands are placed into the wrong categories that is not representative of their music putting them at a disadvantage while giving others an unfair advantage.
The event featured many musical performances from bands, including Zuhg, Dog Party and Whiskey and Stitches.
Zuhg, an eight-member band, was also inducted into the Sammies 2013 Hall of Fame.
Well known for its mixture of jazz, '70s rock and roots reggae, Zuhg maintained their reputation, delivering a stellar performance that included just those sounds. Utilizing instruments including three different types of guitars, one saxophone, one drum set and one piano with the rough, powerful soul-singing voice of lead singer Bryan Nichols, the band strung up rock-sounding music with an electronic vibe that was up-tempo, but not over the top.
Another band named Dog Party consists of two young girls whose music is a blend of rock, punk and pop. Their music is a mix of high-pitched singing with repetitive lyrics and high-volume, rhythmic electronic sound from an electronic guitar with the sounds of drums coming in at regular intervals creating a fast, electronic-guitar sounding beat.
One of their songs from their latest album "Lost Control," which was also the song that they performed at the event, called "I can't wait" lives up to its pop, rock and punk reputation by retaining mild, upbeat tones without being harsh in tone and singing to the ears.
If reggae and rock doesn't do it for you, a little Irish folk-punk and Americana from the band Whiskey and Stitches might just do the trick.
This band had been winners at the Sammies in the previous two years and it was their first performance ever at the 22nd Annual Sammies.
Their music combines the sounds of Irish folk and the unique, deep masculine voice of lead vocalist Mike McCarrick. More so, songs such as "The Parting Glass," which was performed that evening, offers an interlude of just instrumentals playing when the sounds of instruments and vocals are not working in tandem. It is this combination that truly sets it apart from most folk and punk music and especially mainstream music.
Other performances that night included a Latin band that gave a glimpse of the edgier side of Latin music. A rap performance featuring slow and fast rhythmic rapping accompanied by RnB soul brought the house down. A heavy metal band lead by two vocalists donned in surgeon outfits covered in blood smeared stains energized the crowd with its raunchy lyrics including repetitive iterations of "everybody is dead" and high-octane beats in its performance.
The event was more than just musical performances; it was about celebrating and recognizing local artists and bands from the Sacramento area.
Awards based on different categories were also given out. Some of the awards given out to the winners include the following: New Artist of the Year, Stevie Nader; Teen Artist of the Year, Dog Party; Rock Producer of the Year, Ira Skinner; Hard rock, Fair Struggle; Rock of the Year, Walking Spanish; Best Reggae, Element of Soul; Americana All Country, Rachel Steel; Hip-hop Producer of the Year, DJ Epik; Metal Artist, FallRise; Singer/Songwriter, Stevie Nader; and the biggest award of the night, Artist of the Year, went to James Cavern.
With all that said, if you're looking for music that is fresh, invigorating and different from mainstream, these local artists, bands and others alike in the Sacramento music scene is not a bad place to start.