Michael J. Fox returns to television, proves laughter is the best medicine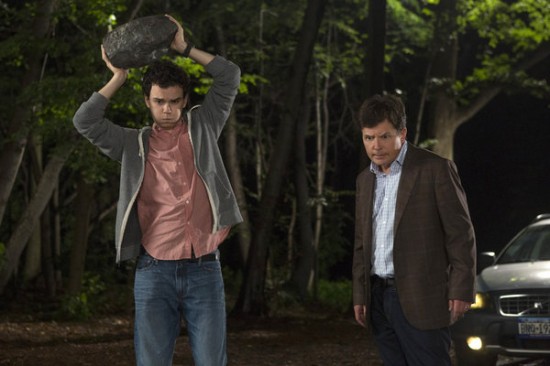 It's always said that if a person can't laugh at themselves, how can they laugh at anyone else? When it comes to Michael J. Fox's new show, being able to laugh at himself and bring laughter to others even at his own expense is the entire point.
NBC's newest member of the Thursday block of comedies is the self-titled "The Michael J. Fox Show," starring the aforementioned Fox as the main character Michael "Mike" Henry. Mike is a former television reporter that, like Fox himself, is diagnosed with Parkinson's and ends up leaving his beloved career because of it.
Five years later Mike decides to go back into the news business and goes back on the air.
In the first episode one of the reason's he finally left was illustrated by the fact that his tremors caused his chair to roll across the floor, taking him off camera. The follow-up bit from his best friend, that is also his producer on the news program, is that they now have wheel locks on the chair.
It's small moments like this, and one at the end of the first episode where the family has made breakfast for Mike and he tries to serve them food but his shaking takes so long that they do it themselves, that bring light to Fox's condition while making light of it in a way.
Fox is not bringing laughter to his disease in any malice to himself or others that have Parkinson's disease. Instead, it highlights a point that has been done on many sitcoms before with those that have different afflictions or are considered different in society, which is that we're all human and funny or odd things happen to us all.
In the series Mike's family is rounded out by his wife Annie (Betsy Brandt), his oldest son Ian (Conor Romero), their daughter Eve (Juliette Goglia), youngest son Graham (Jack Gore) and Mike's sister Leigh (Katie Finneran). Wendell Pierce plays Mike's boss, best friend and ladies' man Harris Green.
Much like the character he's playing, based off of himself, Fox was diagnosed with Parkinson's Disease in 1991 and disclosed this to the public in 1999 before he semi-retired from acting shortly after as his symptoms became more severe.
"The Michael J. Fox Show" is Fox's return to television on a full-time basis, the first time since "Family Ties" in the 80's. While the battle with Parkinson's is a theme in the show, it is not the only focus.
Like all sitcoms before it, "The Michael J. Fox Show" draws from the staples of comedy. In the second episode Mike lies to his wife about his attraction to an attractive upstairs neighbor that results in hilarious miscommunications and antics. At the same time their daughter tries to befriend someone she assumes is a lesbian just because she wants what she calls an eclectic group of friends.
The core of the show is family, and is something that is important to Fox as his retirement from "Spin City" in the early 2000's was so that he could spend time with his family as his disease progressed.
While there is no cure for Parkinson's at the moment, Fox tries to make it just a little better with the oldest and most prescribed medicine around: laughter.