Wizard World Comic Convention comes to Sacramento
Celebrities, vendors and fans descended upon the capital as the famous convention circuit came to town for the first time.
At first glance, one would probably not place the label of geek or nerd upon 23-year-old Katherine Zeman, as she doesn't fit the stereotype that society holds about those that would attend a comic convention.
Zeman and thousands of others, the line wrapping around the corner of the Sacramento Convention Center on two of the days, filled the halls of the center on March 7 through March 9 as the Wizard World Comic Convention descended upon the capital city for the first time.
As part of the Sacramento Horror Film Festival organization, Zeman worked one of the many vendor booths that littered the tightly packed aisles.
"I am a 110-pound white woman who is 23 and I'm in the military," Zeman said as she stood before the horror booth, decked out in Sacramento Horror Film Festival merchandise. "So if [people] think a nerd is someone that is weak, scrawny and doesn't have a brain or too much of a brain, then what does that make them think about someone who is defending their country?"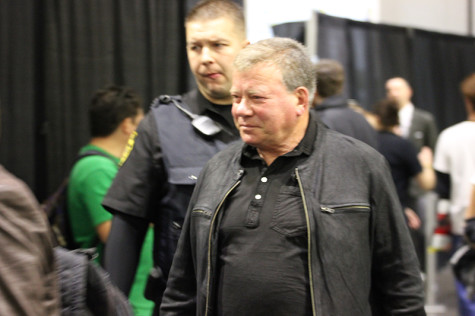 Zeman, like many who came to the event, defies the stereotypes that many seem to lump upon anyone who attends such conventions or shows love for anything that is considered nerdy by society's standards.
"We do have social lives, and we are allowed to like things that are different," Zeman said. "So if they [people] are going to judge someone by a term that is from the 80s as an offense, and not just Revenge of the Nerds movies here, then it's belittling to not just the people you are insulting, but yourself."
Zeman was not alone in her view on what society calls nerds.
"Nerd always reminded me of someone like a Poindexter with the big glasses with the tape on the glasses very much like Milhouse from the 'Simpsons,' " said Christopher Neary, owner of Metropolis Comix, located on Bruceville Road. "But now, honestly, the thing of it is nerd and geek really is okay. It's accepted now, it's a good thing, it really is."
Neary said that since a lot of celebrities come to conventions and want to do a movie or comic-related series, there is less of a stereotype and stigma associated with conventions and comic-related pursuits.
"A typical person at the Wizard World convention was of course a fanboy or fangirl, but it's now becoming so mainstream and it's acceptable now," Neary said. "All these people who were closeted superhero fans, now they don't have to be closeted anymore. Now you can express yourself and you're embraced by it."
Zeman, who spent much of Saturday wearing various costumes from the horror-rock opera "Repo The Genetic Opera," was not the only one defying the stereotype of a nerd at the large convention.
The convention's Cosplay Costume Contest, cosplay being short for costume play where individuals dress up and perform as a favorite character, was full of over a hundred costume adorned individuals that ran the range of types of people, including the master of ceremonies, Eric "The Smoke" Moran, who is a former pro-wrestler turned professional cosplayer and travels to conventions around the country.
Other cosplayers invited as guests, who have gained some celebrity included Ryan Frye, who when in his own Thor costume is a dead-ringer for Chris Hemsworth, IvyDoomKitty who came as Wonder Woman on the first day and Vegas PG who ended the convention dressed as Officer Caitlyn from the popular online game "League of Legends."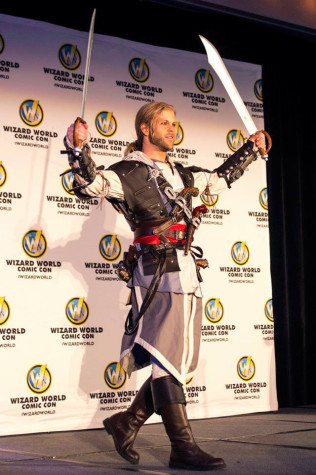 The panels included many of Marvel's characters: Stan Lee, the original Green Power Ranger Jason David Frank, Bruce Campbell of the "Evil Dead" series, Norman Reedus and Michael Rooker from "The Walking Dead," the cast of the cult film "The Boondock Saints," William Shatner of "Star Trek" and many others.
Many of the panelists spoke of the power of the fans, and being what many would consider a nerd themselves. Shatner said that the fandoms that gather at conventions do so because the shows and comics and other media that we consume have become like a grand mythology, much like the Greeks myths.
Chris Hemsworth, known for playing the character of Thor in various Marvel Comics movies, headlined a panel at the event and spoke on his own tendencies that are considered nerdy.
Hemsworth listed "The Neverending Story," "Terminator," and "Labyrinth" as among his favorite films, to which the moderator quipped that Hemsworth was a nerd leading, to Hemsworth replying "absolutely."
Hemsworth answered a question about his A-list celebrity status and said he attributed it to his taking on the role of Thor, and had something to say about the fans.
"I've done other films before, and TV and what have you, but never had the kind of fans I had before I was part of this," Hemsworth said. "Coming to things like this and meeting people who know more about the character than you do and that sort of die-hard support is unlike anything I've even been a part of and that has probably been the most special thing."
There were numerous reasons that Zeman said people should consider coming to the event next year, being held on June 19-21.
"If they love cosplay, if they like to buy merch, if they want to meet famous people, why not come?" Zeman said.
View Comments(1)