Anthropology Department wins 2014 Stanback-Shroud Diversity Award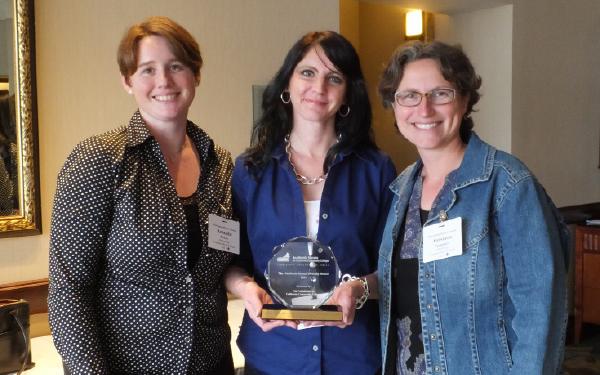 Cosumnes River College's anthropology department was "surprised and honored" with the 2014 Stanback-Shroud Diversity Award at the Spring Plenary session in April, conducted by the Academic Senate for California Community Colleges, said anthropology Professor Shannon Mills.
Mills, along with anthropology Professors Anastasia Panagakos and Amanda Paskey, received the recognition and a $5,000 award from the ASCCC for their on-campus work with diversity. The theme of the event being titled "Academic Excellence: Strengthening Our Core," according to the ASCCC's website.
"My nomination of their program was based to some degree on what I see them offering students access to: activities, lectures and dialogue on relevant issues," said Martin Morales, chair of CRC's department of political science & global studies, via email. "The anthropology department has a hand in every campus event that deals with diversity – Women's History Month, OneBook, Safe Spaces Workshops to name a few."
The anthropology department maintains a high standard of involvement and interest in campus diversity.
"Because they are all overachievers," Paskey said.
The department also maintains a written set of values. One of which states their desire to "offer our campus community a unique perspective on global issues, tolerance, cultural diversity and the human condition."
In order to help students realize the importance of this diversity, the anthropology department teaches "empathy and tolerance" which "are extremely important to anthropology," Mills said.
These values are earned through learning about others.
"One of the most wonderful parts about studying humans as an anthropologist is understanding and looking at all the different cultures in the world," Paskey said. "By having a student simply pick an anthropology course, their eyes are open to things they have never seen before and never heard about before, and that is certainly one way of encouraging diversity in their own lives."
Paskey also said the majority of those working in the field of anthropology are not as diverse as the cultures they study, and part of the anthropology department's goal is to help change this.
"Our efforts try to get students who are not necessarily always represented as anthropologists to consider joining the field and start their own studies," Paskey said.
Going forward, the anthropology department is determining what the recognition from the Stanback-Shroud Diversity Award and the cash prize will afford them.
"At this point, the department is getting together and meeting, trying to figure out 'what do we plan to do with [the $5,000] to further diversity in anthropology?'" Mills said. "Potentially scholarships, we just want to try and do something that's going to benefit many different students with it."
Panagakos elaborated further on future plans.
"We plan on using the momentum from this award to help foster an inclusive and positive learning environment on campus," Panagakos said via email. "We are also considering using part of the cash award to help underprivileged students interested in anthropology."