Is 'Fifty Shades of Grey' new romance or just fancy porn?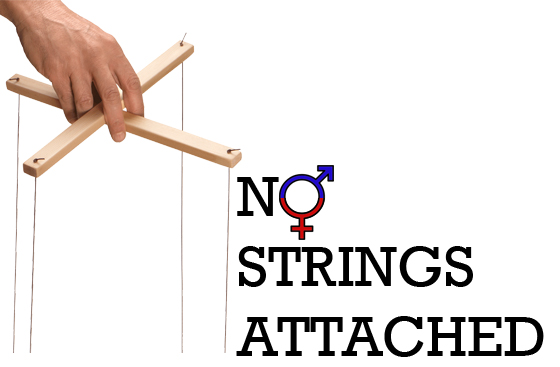 S

he Said:
British author E.L. James opened the door to a whole new level of romance when she introduced us to a bondage and dominance sadomasochism (BDSM) lifestyle in the trilogy, Fifty Shades of Grey.
Women fantasize about a man like Christian Grey, the experienced dominant with a dark past in their lives because of his controlling behavior inside and outside of the bedroom. But, I mean, kinky sex with a hot billionaire? Who wouldn't take that opportunity? Anastasia Steele, the virgin submissive did and put envy into the hearts of all readers.
Christian is a sexual icon, a man who women dream about. A rich, intelligent, dominating, mysterious and, of course, sexy-in-all-ways man. Yes, at times Christian Grey was an intimidating character, but isn't that what drew us in? His lifestyle is so unexplored that our own sexual curiosity lead us to see the thin line between what is pain and what is pleasure.
People argue that this trilogy is trying to encourage abusive relationships, but there is nothing abusive about their relationship at all. Everything Christian and Anastasia did was completely consensual. She had a safe word at all times if things got too rough, and she wasn't afraid to tell him no. In fact, Anastasia had all the power in the relationship. If she said no, he wouldn't touch her. If she argued back, he'd compromise. Sounds like a normal relationship to me.
The sex scenes were hot and steamy, but its sexy and seductive nature grabs your attention and keeps you wanting more and more of what's to come. For a little while, the book let you live in a world where it was possible for a simple college graduate to land a hot billionaire, money was never a problem, fast and exotic cars were just toys and helicopter rides were first date impressions.
The book takes a chance on allowing readers to experience a different type of love and lovemaking. It tells an intense love story with even more intense sex scenes, and allows you to explore the deepest of desires and experience a taste of the wildest fantasies.
He Said:
"Fifty Shades of Grey" is nothing more than pornography with a fancy cover.
Originally conceived as a fan fiction story based on the "Twilight" series, Fifty Shades follows a story about a man who gets off on controlling a woman through bondage and dominance sadomasochism, otherwise known as BDSM.
It's heralded as romance by critics and fans alike, it's even getting a movie on Valentine's Day of all days, but is nothing of the sort. There is nothing romantic about a man controlling a woman inside and outside of the bedroom just for his own kicks.
Dominating control by men is what women fought against in the past, when they were treated like property or second class citizens throughout history.
Yet, now it's romantic to desire a relationship where the man is overly dominant?
Honestly, it's no shock that the story is seen this way because it's based off "Twilight" which is no better in the so called romance area. An ancient vampire who stalks a woman, who then becomes so needlessly dependent on the man that she tries to kill herself when he leaves her and treats her family and friends like crap just to be with this man she claims to love.
It's more than distressing that books that glorify women being subservient to men are what many women, young and old, consider romance.
Many argue that detractors are put off by the graphic sex. I've got no issue with sex. In fact I'm a fan of sex, so describing it even graphically doesn't put me off in any way.
It's the treatment of women, and the fact that these books try to convince women that it's a relationship they should desire that bothers me the most.
There is not a single thing that is romantic about the scenario in Fifty Shades.
It's poorly written erotica by a writer that got lucky that after "Twilight" book publishers were looking to give those Twi-hard fans their next fix of skewed romance.
In fact a study done at Michigan State University has linked young adult women who read the series to unhealthy behaviors such as eating disorders, binge drinking and a higher likelihood of being in an abusive relationship, according to The Huffington Post.
Is that really what we want our young women to equate with romance, ending up in abusive dominating relationships?
Sure not all readers will end up there and like all studies it might not fully reflect the reality of the situation just yet, as more research is needed, but it's a very distressing idea.
Subservience in all manner of life is not romance, not even close.
Romance movies are something that I really hate most times, as they are unrealistic, but I would rather watch or read any of those stories over ever suggesting anyone hold "Fifty Shades of Grey" up as the epitome of romance.
If a rose is a rose, then Fifty Shades needs to be called exactly what it is. Printed porn, nothing more.
Agree or disagree with the writers? Let them know by commenting below or visiting our facebook page: www.facebook.com/crcconnection
Leave a Comment