'Divergent' sequel is full of dark twists and turns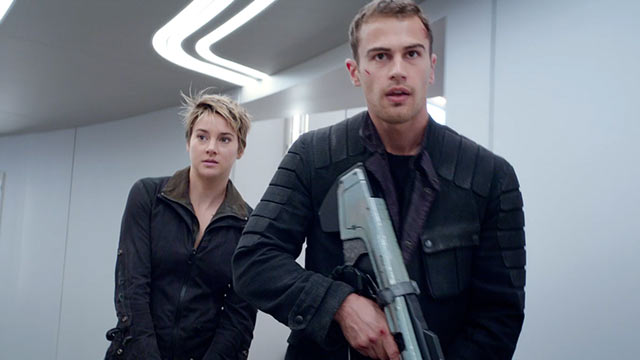 "Insurgent" is truly what a sequel in any trilogy should be. The sequel to the popular film "Divergent" is a roller coaster of thrills.
The film guides you through exceptional character development and by the end it leaves you begging for more.
Robert Schwentke, director of "R.I.P.D." and "The Time Traveler's Wife," does an incredible job of moving the plot forward while also giving glimpses into the main character Tris' psyche.
Schwentke keeps the viewers at the edge of their seats by continuously mixing nightmare with reality. Although he didn't direct the first film in the series, Schwentke packs "Insurgent" full of dark twists and turns.
The film takes place right where the first one left off. Tris and Four, played by Shailene Woodley and Theo James, must hide from the faction Erudite while attempting to convince the other factions to join them in fighting against the power hungry Jeanine, leader of Erudite played by Kate Winslet.
While the five factions are introduced in the first film, "Insurgent" offers a deeper look into how the other factions operate. The factionless also play a much bigger role this time around.
The film still holds onto its young adult romance roots, but it is so much more than that.
Even though it is shown how Tris and Four's relationship is growing, it is fortunately not the main focus of the plot.
In fact, James and Woodley's chemistry is nothing compared to that of Woodley and Winslet's. The intensity between the two actresses keeps eyes glued to the screen.
Winslet herself gives a titanic performance by showing how truly Erudite she can be. She perfects the cold and calculated demeanor that an Erudite leader should possess.
Luckily, Schwentke brings back the idea of simulations that were introduced in the first film. The computer graphics make these scenes stunning and impossible to look away from.
The best part, unless you have read the books, is the complete unpredictability throughout the entire movie. Just when you think you understand, Schwentke throws in another twist.
"Insurgent" truly is a stunning portrayal of what a sequel should be. You'll feel like you just stepped off a roller coaster instead of stepping out of a movie theatre.