Professor gathers alumni to share their experiences with current students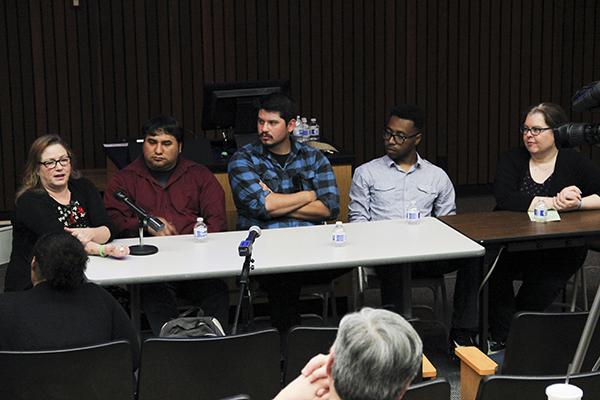 For all students, regardless of their major, the question of what to do once they've finished their education can weigh heavily upon them. Radio, television and film Professor Lauren Wagner held a panel on March 23 to help RTVF students answer that question by showing them different career avenues they could pursue once they finish their involvement with the program at Cosumnes River College.
On the panel, Wagner was joined by four CRC and RTVF alumni. Colleen Wood who is pursuing documentary filmmaking at the University of Alaska at Fairbanks, Alex Ajayi who is studying cinema at San Francisco State University, Andrew Blankenship who does freelance video work with his own company and Damian Duran who currently has a job with the California Channel as a master control operator.
"For me the goal was to give students in the program, or potential students in the RTVF department, an idea of what happens after you leave us," Wagner said. "So we had panelists who had transferred and could talk about the programs where they are now and folks who are doing freelance as well as someone who has kind of a nine-to-five stable job, to represent what options you really do have going through our program."
Along with discussing the various career options RTVF students have after leaving CRC, the importance of networking and collaboration, professionalism within the workplace, attention to detail, staying motivated and passionate, being driven, CRC's internship program and how the RTVF program specifically served as an aid to all four panelists were popular topics.
"Every teacher was really good at making us do better and not letting us just get away with mediocre work no matter what is was, that was what I found," Duran said.
Duran said he attributes almost all of his success in his field to the RTVF department and the coaching and constructive criticism given by its staff.
The quality of the work that comes from the RTVF department was also mentioned frequently.
"Anything that comes from CRC is really good," Blankenship said. "Stuff from CRC is always super polished and I'm always happy we dominate the academy of arts. I get really competitive about those things."
Students in attendance said their time at the panel discussion was well spent and they learned a lot.
"I wanted to do screenwriting and directing because I have visions for my films and these are people who have been there and this is a once in a lifetime opportunity," said 21-year-old film production major Breanna Myers. "These are people who took time out of their busy schedules to come here to speak to people who are eager to get in that field."
For students who were not able to attend, Wagner offered a word of advice.
"There are options and think about what you might want to do when you're still a student here and then approach us," Wagner said. "Approach your faculty and let us know what it is you kind of want to do and if we can we'll try to help you get there."
Leave a Comment