Professor passionate about sharing his love of photography through his teaching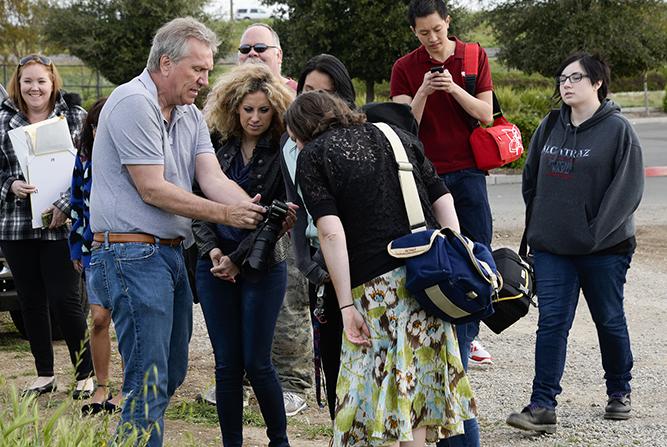 For the last 27 years Cosumnes River College photography professor Jim West has retained the same enthusiasm when it comes to teaching students the art of photography and has been a guiding hand in shaping the department.
West has made a name for himself on campus and in the photography world, but he said he still makes teaching students his first priority.
"Students come first for me, they have always been first to me," West said.
Rather than overloading students with information, West said he wants to bring out the information that is already inside them, to make them a better person as well as a better photographer.
West said he believes that the way he was raised has a lot to do with the photographer he is now, and he wants to instill that in his students as well.
"How I was raised is that you do the best job that you possibly can and realize that  everything in life is tenuous," West said. "I came from a family of six children, and I'm the only college graduate out of six children, and I can do this, I did it, and so can you."
Cat Lenoir, a 19-year-old photography major, is taking her first class with West.
She said she always heard good things about him and she's happy to be taking his class.
"What people have said about him is true," Lenoir said. "He is the coolest teacher I've had here. He's more than a teacher, you could be friends with him if you wanted to."
Kenneth Bloyd, a teacher's aide for West, said he's known him for two years and he appreciates the way that West teaches his students.
"
I haven't gotten one single bad review. He is the coolest teacher I've had here. He's more than a teacher, you could be friends with him if you wanted to."
— Cat Lenoir, 19, Photography Major
"I like that he teaches from a photographers point of view, not an art perspective," Bloyd said. "He is always listening to his students, and helping them whenever he can."
West said he believes that life is about the present and that whatever happened in the past is in the past.
"It's what are you doing now and what are you planning to do in the future to make a difference to the people around you," West said.
West will soon have one of his photos published in USA Today.
"It's great news that they are going to be publishing one of my images. I am very excited that it's going to go on the web and that millions of people are going to be seeing it," West said. "But to me it's about when you do something that you try to do the best that you can possibly do in it, and then you share that, and it's done, and then think about what are you going to do next."
Last year, West won the Nikon Teaching Award as well as the Dean Collins, Scott Kelby Educator of the year award, which was given in Las Vegas at Photoshop World by Kelby.
"These two awards opened up doors that I wasn't expecting, from speaking engagements to training and technical education," West said. "And [they] opened doors for what we are doing here at CRC and for corporations to come and see what we are doing here."
With these two awards, West said he now has the opportunity to travel the world and shoot  photos, and he was happy that the school allowed him to take a part-time sabbatical.
West was invited to go to Cuba and China but said since he wasn't able to receive a full sabbatical he won't be able to go to China but is working on going to Cuba.
In the meantime, he said he will be going to the Smithsonian Museum in Washington D.C. and working in the photography department there.
West said he also has an appointment at the White House where he is hoping to meet with the main photographer for President Barack Obama and meet with the editor of National Geographic Magazine.
In addition to traveling the world, West is also attending conventions where he is able to meet different photography companies that he said believe in what he is doing at CRC and want to work with him.
"A lot of the companies that I met with, I at least met with 20 companies maybe even 30, and most of all of them said 'we want to be part of your program. We want to partner with CRC and with your students,'" West said.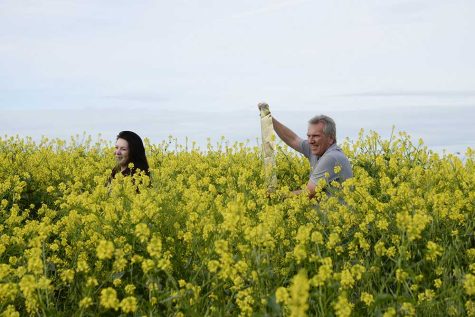 West said his goals for his sabbatical are to bring partnerships to the photography program, and to let them come in and bring free education to the students. These partnerships include groups bringing their equipment in so students can use it so they'll have an advantage when they go into the workplace, West said.
Many of West's students said his accomplishments are an inspiration to them.
"This little community college in Sacramento with this awesome well known photography teacher, it's cool to think about how he's done all these things and he's my teacher," Lenoir said. " He knows that he is accomplished and he doesn't act like it. He wants us to be accomplished as well, and that is nice to have."
West said that photography is more than a job for him because he sees photography  everywhere.
"Photography is the idea of bringing light onto a subject, just as an artist puts paint onto a subject. The idea of capturing the elusive," West said. "I live, breathe and eat photography. That's who I am and it's what I do. I don't know how to live in any other way."
All photos: Ceejay Willis