Theatre arts department tackles a never before performed show and California water issues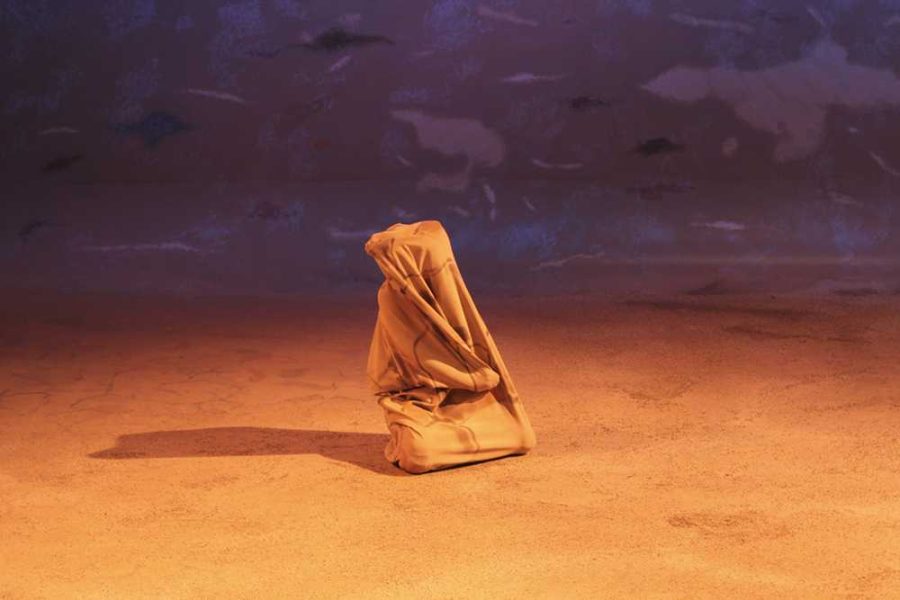 For their newest production "The Chisera," the Cosumnes River College theatre arts department was given the rare opportunity to not only work side-by-side with the playwright, but to also be the first theater company to perform the work.
"The Chisera" follows characters in two timelines, 1903 and present day, while exploring the man-made climate issues that are still relevant to our region today. Part of the play follows Mary Austin, a woman who lived during the California water wars of the early 1900s while the other part follows geologist Alice and her daughter Lily in present day.
After a trip through Owens Valley, director Cheri Fortin said she was inspired by the tender beauty of the desert valley, according to the play's program.
She began to research Owens Valley and found an article about playwright Paula Cizmar and her work in progress.
Soon after, Fortin contacted the playwright, and Cizmar agreed to let CRC's theatre department work on the first production of the play, according to the program.
"You rarely get the chance to first work with a playwright, to have a workshop where the script is being changed as we go along," said Justine Lopez, 22, who portrayed Mary Austin in the play. "It was interesting [because] we were able to ask questions directly to the playwright. There were some lines that were given to us two days before opening night."
Timothy Dimal, 19, who played Everett Diaz, said the playwright drew inspiration from the actors and vice versa.
"We had a long scene that she really didn't know what to do with it," Dimal said. "But once she heard it in our voices, she got ideas and ended up changing it."
Dimal said the final cut of the scene flowed a lot better than the original script.
While many people might think putting on a play with a long history of productions is easier, "The Chisera" cast said they felt differently. 
"
There's wanting to entertain people and then there's wanting to send a message and get people to think."
— Ryan King
"If it's a play that's already out, you would have to get all of the insight from yourself," said Ryan King, 21, who portrayed Fred Eaton, Mary Austin's antagonist. "But to have the playwright there as an extra resource, you reach your decisions and your objectives and it's just easier to put things together as a whole."
Lopez said she thought of it as more of a chance to create new paths for actors in the future because there is nothing for them to look back on, they have to rely on themselves.
While they have to rely on themselves and their skill to put on an all-new work, Dimal said a good production requires there be a strong relationship between the actors and the playwright.
"I think it's important that a playwright should work with the actors directly therefore they can make a nice, really solid production," Dimal said.
However, there were some challenges in working on a new play, especially for those playing characters from a different time.
"The hardest part was to portray someone that is from 1903," Lopez said. "You have to subtract all the modern mannerisms that we have and to put yourself into the mindset of early 1900s."
King said this role was more of a struggle because Fred Eaton is more grounded than the comedic roles he is used to.
"This part, as a whole, I think had the most growing points as an actor," King said. "I feel that's one of the great opportunities in collegiate theatre."
In the play, the Chisera are spiritual beings of the desert that communicate with Mary Austin.
"It's almost like the genius of the Chiseras feed wisdom in a sense to Mary," Lopez said. "They are all knowing, they are part of nature [and] they are timeless."
Much like the Chiseras teaching Mary about the desert, "The Chisera" is meant to speak to the audience about the issues going on in our own community, as California dries up from the drought.
"I think people will learn from this…they'll learn history they've never known before," Lopez said. "Or [they'll] realize something about what their impact is on the Earth. They will be aware."
King said that the fact that "The Chisera" is a new production gives the actors a chance to make their mark and teach the audience about the issues around them.
"There's wanting to entertain people and then there's wanting to send a message and get people to think," King said.
"The Chisera" has two final shows on May 8 and 9 at 7:30 p.m. on both nights. Up next for the theatre arts department is a performance of David Wood's "The Gingerbread Man" in December.
Leave a Comment