'Triangle' tells story of labor rights in a new way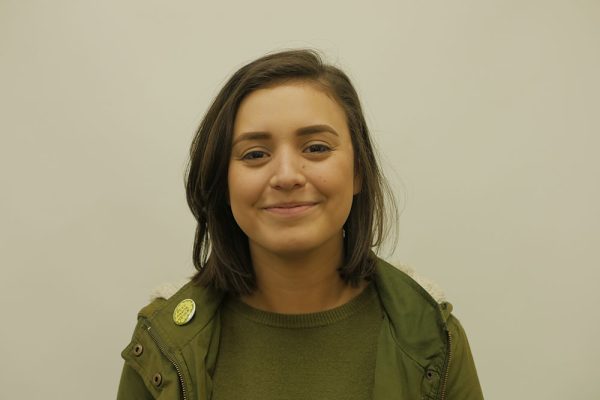 More stories from Ashley Navarro
The campus theatre department is in its final stages of preparation for their new production of "Triangle" by Laurie Brooks which will be showcasing in the black box theater on March 11.
The play is said to tell the story of the experiences immigrants had during the tragedy of the Triangle Shirtwaist Factory fire in 1911.
The fire took the lives of many innocent workers and left a mark in American history.
The story will be told through a series of flashbacks from a character named Malena who lives in the present and hears ghosts that share their experiences.
"It doesn't follow too many traditional senses of how plays usually work," said Kayla Velasquez, a 22-year-old theatre major. "It has a lot of jumping through time where each scene is in a different space and time."
This is the first time the theatre department has produced the play.
Malena is a 16-year-old who is observing the experiences said Velasquez who plays the character. The protagonist in the production is an immigrant named Sophie who is played by theatre student Janiece Pride. Pride's character Sophie is the first to interact with Malena and starts the journey.
Other characters include Rose, a carefree 14-year-old played by Jillian August, Mary, a talkative worker played by Aliyah Mcrae and Max, the love interest of Sophie played by Theodore Butler. These are just a few of the students who will be showcasing their talent.
The subject matter of the play revolves around an important event that is known for being one of the biggest tragedies in American history. The theatre department hopes to draw people to the play because of its importance.
The production will be having a unique setting and lighting to enhance the experience of watching the play. Even just watching the students rehearse, the dedication to making the production professional and perfect is obvious.
"It's got really innovative and visually exciting staging," said adjunct faculty member of the theatre department, Scott Gilbert. Gilbert is in charge of promotions and publicity for "Triangle."
The play will be running on select days from March 11 to 19 and price for tickets will range from $5 to $10. Tickets are available online and in person at the Black Box Theatre box office located at the entrance.  
"It is a beautiful play and we put a lot of hard work into this," said Mcrae, "I want people to see all the hard work we put into it."
Leave a Comment