Los Campesinos! release another successful album after four years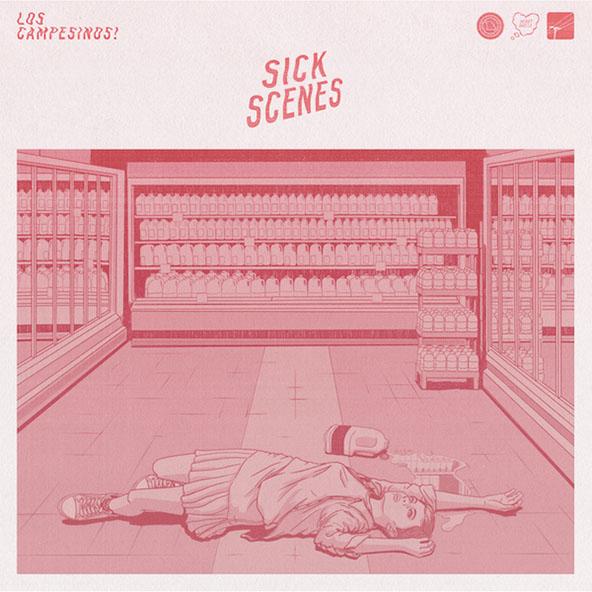 It had been a little over three years since the seven-piece Welsh indie rock band, Los Campesinos!, graced the scene with their fifth full-length album "No Blues." It is evident with the new album "Sick Scenes" that the band has yet to lose its charm after 10 years of being together.
The charm that has been relentlessly found in each album is the band's ability to write painfully sad songs about mental health and addiction while being seemingly cheerful.
With lyrics like "It seems unfair/ to be an overflow for empty, it seems unfair/ to try your best but feel the worst," the first single to be released, "I Broke Up in Amarante" fulfills the angsty undertone while also being an insanely catchy song to dance to.
The song takes a different approach not found on the rest of the tracklist by adding a slight distortion to chorus and guitar to give a slightly gritty sound.
Despite the album being filled with a theme that has been found in previous albums, it doesn't make the album any less valued. These things are expected from Los Campesinos! but they still bring freshness to the theme.
The only major change evident from listening to the albums is the increase of maturity and it's not a bad thing (as well as the continued abandonment of the glockenspiel, but there's no doubt that would have gotten old).
Their success has given them the opportunity of better production with each song on the new album radiating warmth.' Another thing to notice is how much the supporting vocals shape the song. Pianist Kim's voice perfectly melts with each song featured giving them a sweet undertone.
The next song to be released as a single was "5 Flucloxacillin" which tells about the overuse of prescription drugs. It almost becomes humorous how the song has lines like "found a fiver screwed up inside a prescription receipt, from the Salbutamol (No, a gift from the Sertraline)" is met with soft harmonizing vocals making it seem like the song is actually uplifting.
Apart from the singles the album features some mellow songs such as "A Slow, Slow Death," "The Fall of Home" and "A Litany/Heart Swells." If mellow isn't what you're going for then the album has more songs following the basic tempo found in a Los Campesinos! song such as "Renato Dall'Ara (2008)," "Sad Suppers," "Hung Empty" just to name a few.
With the announcement of a new album came an announcement of a North American tour which the band hadn't embarked on in four years. Despite the time apart, it was worth the wait. "Sick Scenes" is another beautifully crafted album in the band's discography.
Rating: 4/5
Leave a Comment