'50 Shades Freed' of interest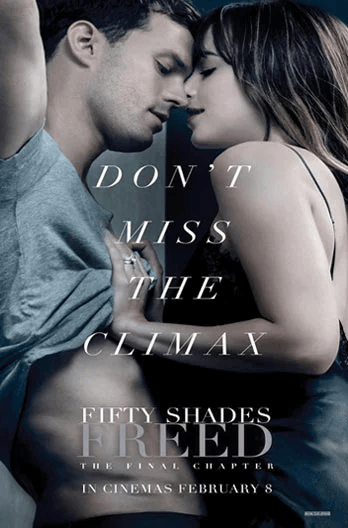 "Fifty Shades Freed," the third installment to the "Fifty Shades" installment, wasn't terrible but it definitely wasn't a movie you should be dying to see either.
It's better than the first one, but that's not really saying much since the first one wasn't very good at all.
Anastasia Steele played by Dakota Johnson and Christian Grey played by Jamie Dornan are married now and their relationship is a lot more normal than it was in the previous two movies.
Christian is no longer trying to make Ana into another one of his submissives and he isn't detached from his emotion anymore.
Ana is no longer afraid of Christian and the sexual things he might make her do. She is no longer a submissive who is bound to a contract but a wife who is loved by her husband.
They both have grown since the first movie and seemed to have learned from each other. Ana has definitely adapted to being rich and all the things that come with being married to Mr. Grey.
Ana has gained the confidence that she was missing in the first two movies, she stands her ground against Christian when she needs to throughout the movie. She lets him know he can't do what he wants and he needs to act like a husband or they will no longer be together.
Christian is no longer in the confused state he was in before. Stuck in between being a dominant and all about sex and someone that is in love and trying to get rid of his old habits.
Christian is still obsessed with Ana, but he's more human than he has ever been. He actually shows emotion and seems happy.
At times they seem like a normal married couple that have a sex room and billions of dollars.
The story is no longer about a rich man chasing after a middle-class normal lady but one thing hasn't changed; they are both still as horny as ever and have sex all the time in random places.
There was a lot of stuff going on in the movie, but there wasn't much of a plot .It seems like a bunch of stuff got thrown together.
Some stuff we knew would happen based off the last movie, but there were a few surprises in the movie as well.
The movie definitely could have been better. It actually could of been a good movie, but it just seemed rushed and needed to be thought out more.
For the most part the movie is just about a rich couple that love to have sex and have rich people problems.
The movie was interesting to watch but just not worth going to the movies to see. So if I was you, I would just wait for it to come out on Redbox and rent it.
Leave a Comment