Meditation space on campus
The campus opened a meditation space in spring.
It's a quiet, safe environment for students who wish to reflect, pray and meditate for up to 15 minutes located in the Business Science building, room 144. The campus offers time for individual students up to a group of five to sign up. Any Cosumnes River College student, staff or faculty member can use it.
"The whole idea of pausing during a busy day, whether its just to reflect, to pray, or to mediate or just to regroup, is real important," said Anthropology Professor Anastasia Panagakos.
Panagakos said the spring semester ended up being the perfect storm of having enough people that were interested and that were willing to push it forward.
Panagakos mentioned that faculty members have been advocating for the space over the last 10 years.  
"It's nice that our school has a meditation space," said math major Ariadne Singh, 19. "I've used the room three times this semester and have told a couple of my classmates about it."
Singh said she feels like the school really shows that they care about their students well-being.
Panagakos also mentioned the focus and importance on mental health issues right now in our society.
Before the meditation space opened, students had to be creative in finding quiet or isolated places on campus.
"I witnessed people in the stairwells, praying beneath the stairs and behind buildings, and that's just not safe for our students to be doing that," said Panagakos.
Student Ambassador Medelin Velazquez, 18, said the communication between students is more now than it's ever been due to the student ambassadors and peer mentors reaching out to students and getting the word out.
"Once we get that constant flow of students, we're going to be making this space a lot bigger," said Velazquez.
Panagakos said the space is non-denominational and that it doesn't matter what your belief system is, just as long you follow the guidelines.
The space is open Monday through Friday from 10 a.m. to 5 p.m. Sign-up sheets can be found the outside door of the meditation space, located in BS-144.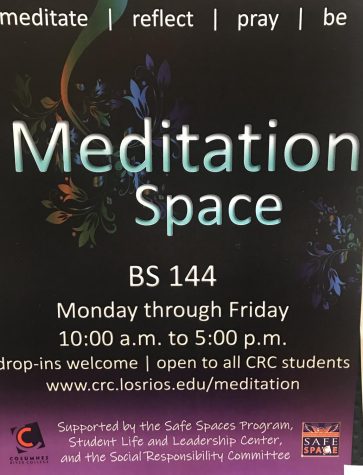 Nekita Smith

Leave a Comment