Class brings students who enjoy hip-hop together
Among the many dance classes offered at Cosumnes River College, hip-hop is one of them. Unlike the common lecture classes, Dance 353 is all about body movement and hands-on experience.
Dance Professor Michelle Green-Clark said she evaluates her students by advising them how to improve certain movements when needed and letting them learn from one another.
Clark said students are expected to learn about the hip-hop culture and the origin of where each movement came from as they apply that knowledge to their choreography and exercises.
"There is so much to learn about hip-hop," Clark said. "Students are constantly experiencing and expanding what they know when they come to this class."
The students began one of their classes by doing exercises and grooving together as a class to warm everyone up.
Student choreographers were teaching specific movements such as turfing and tutting that require the right skills and techniques to perfect. Each student was given an evaluation sheet afterward and graded based on the effort they put into learning the techniques.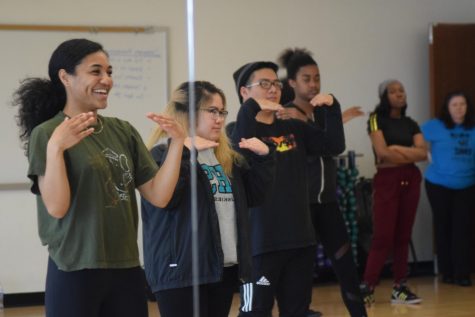 CJ Willis, a 26-year-old photography major, said one must take it back to the surface of where the hip-hop culture began in order to get a better understanding of what the moves are all about.
Beyond dancing, some of the students said the class has changed their education and personal life.
Ericisha Burkhalter, a 20-year-old business administration major, said the class was not only a good way to work out, but it was a place she could express herself and not be judged.
"I love that I could be free and not have to worry about what other people think about me," Burkhalter said.
While students are able to fulfill course requirements with the hip-hop class, some of the students said they found it to be more valuable than just another class to pass.  
"
I love that I could be free and not have to worry about what other people think about me.
— Ericisha Burkhalter
"I think the most important thing that I've gotten out of this class is that we can learn and critique each other and are still able to build friendships together," Willis said.
Kaylissa Dunson, a 22-year-old communications major, encourages students to join the class even if they don't have any experience in dance saying "because it is an open-friendly environment and will change your life."
"Sometimes you don't know that this could be your thing," Clark said. "Just giving it a chance is all it takes."
Leave a Comment