Department Chair wins Golden Hawk Diversity Award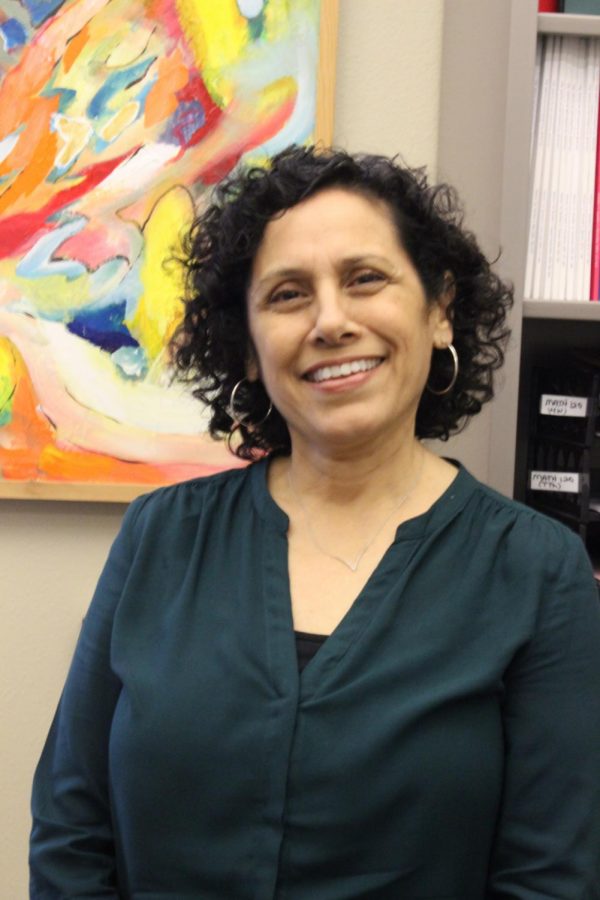 Math Professor and Department Chair Camille Moreno won the Cosumnes River College Golden Hawk Diversity Award, which honors faculty who address issues involving diversity.
The Golden Hawk award recipients are automatically nominated for the Stanback-Stroud Diversity award, which focuses on the same issues, but recognizes people from across the state as opposed to the local community.
"'It's really humbling," Moreno said. "What I've accomplished, I haven't done by myself. It's taken many people with lots of effort."
Over her 18 years working full-time at CRC, Moreno has worked closely with students to build up their confidence in academics.
Moreno said said she began a four-week long summer course called Math Boot Camp that's been running for eight years. The course seeks to fill in math knowledge gaps at a pace students can be comfortable with and covers areas from basic arithmetic to calculus.
"I felt a big need to create opportunities that we didn't have for students outside of class that would support them in their math courses," Moreno said. "Some students who may not have seen themselves as college material now have a second chance."
Moreno was involved in initiating the Math and Human and Career Development Learning Community, a program she said is designed to aid students who have taken Math Boot Camp in the summer and want to be successful with classes in the fall and spring semesters.
"I also started a course called math study skills," Moreno said. "It's a one unit course you take in conjunction with a math class."
The course provides test-taking skills as well analyzing how to read math textbooks, said Moreno.
Jeffrey Aparicio, who is a 28-year-old alumni, said he first took geometry with Professor Moreno.
"I had just been released from jail, and she saw how hard I was working and asked me to be a tutor," Aparicio said.
Aparicio said he is now studying engineering at Cal Poly in San Luis Obispo.
"She was the reason I didn't drop out," Aparicio said. "She basically became my mentor."
Moreno serves as Tri-Chair for the Hispanic Serving Institution. Currently, they have submitted a grant to get a location which they would call "Mi Casa" in hopes of creating a family environment on campus for Latino and Hispanic students.
Biology Professor Julie Oliver, who nominated Moreno for the awards, said she always has an outlook in regards to diversity.
"She participates in a lot of committees, both in the math department and other college programs," Oliver said. "She's an extremely hard worker."
Leave a Comment