Wind in the Willows breezes into first production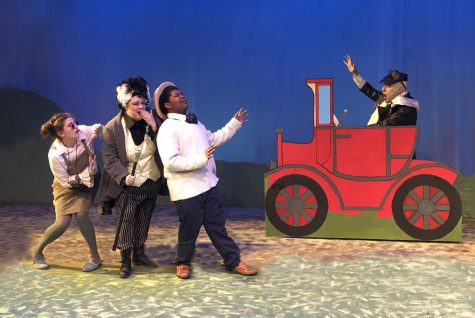 "Wind in the Willows" makes its way to the theatre department at Cosumnes River College.
This hilarious family show was put together by students of CRC, and is a student ran production, that will have the viewer fawning at Mole and maybe wanting to knock some sense into Toad!
Ratty and Mole's peaceful time in the summer by the river was interrupted but Mr. Toad who came in babbling about his obsession with automobiles. But, after Toad had crashed a bunch of cars, he steals one and crashes that one too and then goes to jail! Mole, Rat, and Badger all try and protect Mr. Toad's house from the Weasels.
This lovely retelling of the book by Kenneth Grahame brought to life a set of cast and characters that captivated the audience with their quirky costumes and singing, and if Mr. Toad is concerned, a car accident.
"I tried through physicality and through my voice to make my character come alive," said 19-year-old Abbye Chick, who played the character Mole in the play.
The theater department's unique adaptation of the play introduced Ratty, played by Ky Holmes a 21-year-old sociology major, and Mole, two animal friends that live under the authority of their beloved Badger, who is played by 43-year-old theatre arts major, Gabby Rocco. Badger is a strict but loving adult figure who takes pride in being an animal.
Toad shocks and deceives Badger when she finds that Mr. Toad, played by 25-year-old theatre arts major Robert Michaek, would like to start driving cars like the humans. And from there it's all downhill.
Mr. Toad wants a larger much more grand and exciting way of transportation, said Cheri Fortin, head of the theatre department. This could be a metaphor for wanting "bigger and more grander things in life."
The play is geared towards children, taking on a more innocent tone with a special message at the end; never give up on your friends.
"Even though our friends can be really annoying sometimes," said 20-year-old theatre arts major Logan Couch, who played the French villain attempting to murder Mr. Toad. "We have to stick by them."
Even though this play is geared towards children, the scenery will make you feel like you are right there, fighting off the Weasels in Toads honor. Even though the show was a bit slow at times, it made up for it with its storyline and portrayal of a family unit in the woods.
The show will still be in production until May 19, there will also be a free showing of the play on May 9 for CRC students and their families.
"Bring your kids," said Fortin. "If your kids have never been to a theatre before, it would be great to bring them, if you have nieces or nephews who haven't had a chance to see live theatre, this is the show for them."