'Hawk Week' kicks off the beginning of semester
The Associated Students of Cosumnes River College hosted Hawk Week from Aug. 27 to Aug. 29.
Hawk Week was a three-day event that consisted of clubs and CRC programs setting up tables students could walk up to, food trucks and inflatables. Each club set up their tables differently and welcomed new students to the campus. 
"The purpose of this event is for students to get to know each other and feel welcome on campus," said Student Life and Leadership Supervisor Oscar Mendoza Plascencia. "It's for students to feel welcome and also for students to learn about the different clubs and opportunities to join student government."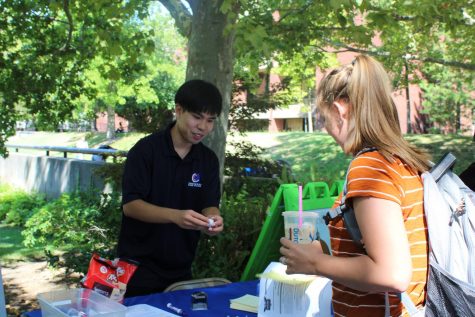 The first day of Hawk Week kicked off with inflatables and resource tables, so students would have been able to come out and enjoy themselves, have fun and get to know new people. The aim of the ASCRC was to expose new students to the clubs and programs available for them, alongside possible opportunities to join student government.
The second day, the ASCRC invited food trucks to be available on campus, alongside the clubs and programs being promoted.
The final day finished off Hawk Week with a raffle and Game Day. Mendoza Plascencia said Game Day consisted of several  lawn games for students to "relax a little bit."
The raffle was held out on the water fountain in the quad where three students won gift baskets created by the ASCRC board, with students on the grass relaxing and having some fun, playing some games.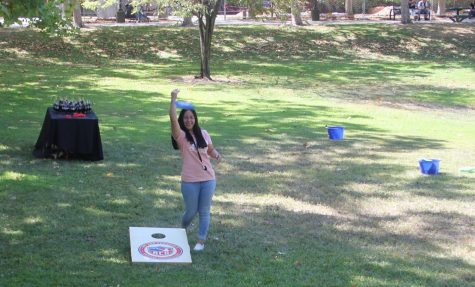 "This was our opportunity to reach out to students and let students know that we're a chill environment that you can come chill and have fun with us," said Student Senate President Jonathan Leong.
The last day of the event also brought in people who were just looking for something fun to do before or after their class. 
"It's nice to have something to do after class," said 18-year-old accounting major Mohammad Rashid. "It's very interesting coming out here after class, you know, a stressful environment then coming out here to destress."
Leave a Comment