Student service helps student through transfer process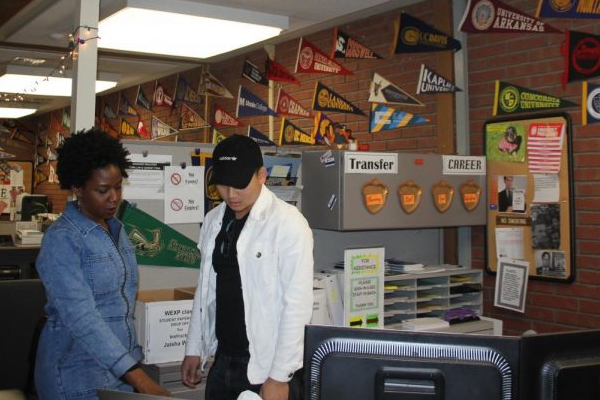 The Transfer Center provides students with information about different colleges as well as the correct steps to take to transfer to the university of their liking.
Transfer Center Personal Assistant Emily Barker said the Transfer Center can do everything but advise students on what classes to take. She said the counselors will be the one that creates an educational plan, but the Transfer Center can assist with other academic-related questions. 
"The Transfer Center is kind of like a friend or sibling that has gone through the transfer process before and can help streamline the process for students trying to transfer," said Barker. 
Barker said the services offered at the Transfer Center include drop-in questions and application assistance. Other services offered are university representative visits, college fairs, university campus events and tours, help with university applications and transfer workshops. 
Emani Dawan, a 27-year-old film major, recently started using the Transfer Center and said she finds the center very helpful. 
"I definitely wouldn't be able to do this myself," said Dawan. "I highly recommend students to use the Transfer Center if they are transferring."
Transfer Center Clerk Channing Corbin said she knows about the Transfer Center because she utilized it when she needed to transfer as a student on campus. 
"It was very helpful because I can literally walk from my desk to Emily's desk to ask her transfer questions when I was applying," said Corbin. "I was able to stay up to date with deadlines and stuff like that thanks to the Transfer Center." 
Corbin said she thinks the main component of helping students with the transfer process is understanding how to deal with the application. 
"Our CSU application can be kind of tricky from time to time," said Corbin. "It's very helpful that I have gone through the transfer process and I have done applications so now I can help students out with that." 
The center is located on the second floor of the library, where students can come in any time between 8 a.m. to 4:30 p.m. to discuss any questions or concerns they have about transferring.
Leave a Comment