Library offers Chromebooks to be borrowed for student use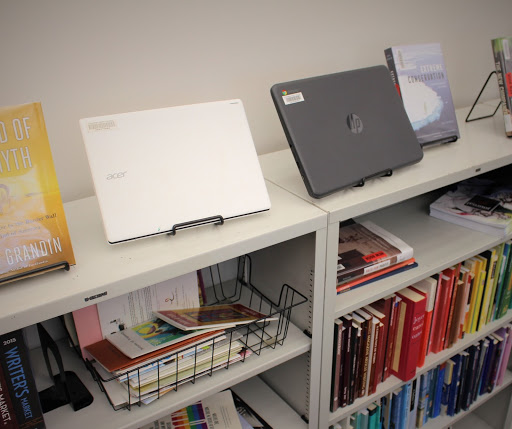 The Cosumnes River College library offers Chromebooks for students to borrow for the duration of the semester for which they are currently enrolled in six credits or more, with no additional cost to the student.
In an effort to make the college experience more widely accessible and affordable, CRC has implemented this trial program to give back to the groups that helped fund it in the first place by providing chromebooks and select textbooks to students that could use a financial break. 
"The main beneficiaries are disproportionately impacted groups and some of that stems from the funding that we use to purchase them," said Librarian Benjamin Wingard. "Groups like Veterans, Puente, Extended Opportunity Programs and Services students, Umoja students and students referred by a counselor are given priority for the first two weeks of the semester." 
Wingard continued that remaining Chromebooks are available to all students after the first two-week period and CRC currently has 180 Chromebooks in total. 
Chromebooks are due at the end of each semester and can be renewed for the next semester if the student will be continuing their education.
"I am able to efficiently do my homework in an area where I feel calm," said 19-year-old kinesiology major Pamela Jacobs. "Public places like our library are hard to focus, so having a laptop available to me is amazing."
The laptops are issued to your student ID number, logged into like any computer on campus, and use the school's wifi for the internet. Devices not returned will incur a $200 fine, be disabled and the responsible student will not be able to register for classes through e-services until it is returned or paid for.
"The Library also has textbook loans for Puente, Umoja, Math and English students" said Librarian Melaine Huyck-Aufdermaur. "We want to make the education experience affordable and accessible for all students that may not be able to afford textbooks." 
As students at CRC, the library can be a valuable resource as well as the staff inside. This program is already in effect and there are currently chromebooks available for spring 2020. 
Leave a Comment