Music department launches weekly 'In the Studio' series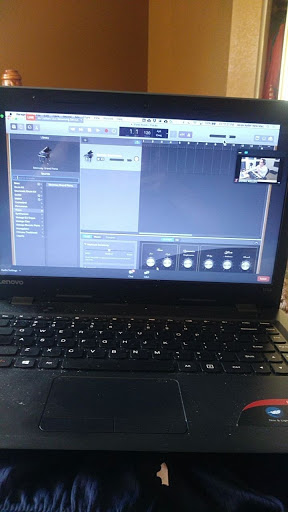 The Cosumnes River College music department held its first-ever weekly series, "In the Studio," featuring CRC music professor Dr. Derek Keller on Friday. 
The "In the Studio" series was created because the music faculty wanted to provide an opportunity for the CRC community to come together. 
In Keller's presentation on a live Zoom webinar hosted by music professor Omari Tau, he presented music through a variety of ways on Zoom and how to present well when sharing a screen as well as the importance of audio quality and using the features of Zoom. 
"My purpose was to serve access for students and faculty in a way that helps them present audio in the best possible way," said Keller. "Another aspect was to provide access for students taking music classes that would benefit from a keyboard and for advanced audio and production students." 
Keller said he wanted to provide viewers and members of the community access to the hidden details of Zoom. 
"I wanted to make their presentations sound better, to have greater and more effective command over the software and hardware elements that go into teaching and learning music through Zoom," said Keller. 
Stephen Podrasky, an 18-year-old music major, said he liked Keller's presentation and it was enjoyable to watch.
"Showing us visually what to do with technology was the most helpful and beneficial," said Podrasky. 
Keller said the five-month-long pandemic had become a challenge, having to send everybody home, including students. 
"We in the music department wanted to find a way to stay connected with our community in our particular service area," said Keller. "I think this inaugural event of the series went off splendidly and we were thrilled to have 50 people." 
Lisa Beebe, another music professor at CRC, said the "In the Studio" series was to provide learning opportunities for music students and many others. 
"Music is something that brings people together, it always has," said Beebe. "We wanted to provide students with opportunities to learn from guest artists who are joining us from all across the United States and all across the world." 
Beebe said the series isn't centered around one idea or theme. 
"We really focused on bringing artists from as many different backgrounds and perspectives to be a part of the series," said Beebe. "Artists who could have a question and answer session with students or artists who could have a workshop to share a skill or important knowledge." 
The "In the Studio" series will also include student performances where students can hear and see other students and enjoy music along with an open mic series called "Raise your Voice" where everyone can share their talents, Beebe said. 
Beebe said this is a one of a kind event and the music department is organizing this for everyone. 
"Not just for students but for their families, too," said Beebe. "This series is free and there's really something for everybody so we hope people will come and check it out." 
The "In the Studio" events will take place every Friday from 12:00-1:00 p.m. on Zoom. 
Leave a Comment