Netflix's newest film showcases a relevant historical hearing at the perfect time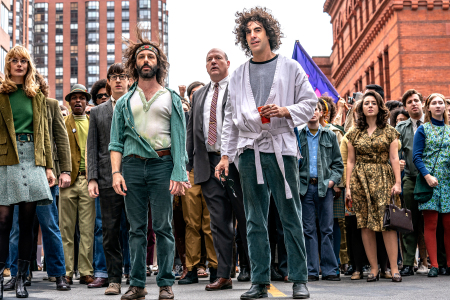 As a result of the COVID-19 pandemic, Netflix gained distribution rights to "The Trial of the Chicago 7," a film originally written in 2007, and released the drama to its platform on Friday.
"The Trial of the Chicago 7" has been in select theaters since September and is written and directed by award-winning writer Aaron Sorkin ("A Few Good Men," "The Social Network"). This is Sorkin's second directorial effort after the Oscar-nominated "Molly's Game." "The Trial" returns Sorkin to courtroom drama and retells the story of the Chicago Seven: A group of anti-Vietnam war protestors charged with conspiracy and crossing state lines with the intention of inciting riots at the 1968 Democratic National Convention in Chicago.
The late 1960s were the birth of the "radical left" and each member of the Seven were leaders of their own ideals. Amongst the all-star cast is Eddie Redmayne ("The Danish Girl," "Fantastic Beasts"), Sacha Baron Cohen ("Borat," "Talladega Nights"), Joseph Gordon-Levitt ("Looper," "Inception"), Mark Rylance ("Dunkirk," "Bridge of Spies") and many more.
"The Trial" parallels other important civil rights events in the late 1960s such as the FBI counterintelligence project famously known as COINTELPRO, which used illegal practices to infiltrate, disrupt and surveil political movements, and the execution of Fred Hampton, a chairman of the Black Panther Party.
Sorkin has fascinated audiences in the past by creating witty and fast-paced discourse between characters that possess an impressive amount of knowledge and passion and are unafraid of showing it. This specific flare adds a one-of-a-kind entertaining flow to politically and media-driven stories, as Sorkin has shown us time and time again.
TRIAL OF THE CHICAGO 7 out now on Netflix! Watch this movie because 1. I'm now old enough to play an attorney 2. It's Aaron Sorkin (You can't handle the truth!) 3. The movie's about a moment in 1968, but it feels like it's about today… (1/2) pic.twitter.com/dezY1752XY

— Joseph Gordon-Levitt (@hitRECordJoe) October 16, 2020
The director avoids any flashy directing techniques and instead uses his direction solely to strengthen his writing. While the cinematography goes mostly unnoticed, the editing is conversely jaw-dropping when the story calls for it.
We see this best when the Seven recount their experiences in Grant Park, and the chaos ensues. As these events unfold, shots are sequenced with small bits of archival footage from the original events; ultimately replacing cinematic astonishment with Sorkin's fidelity and reminds the audience these scenes are eerily similar to what we see today.
The narrative is told in a similar fashion to Sorkin's past work, where the main characters have to recount their experiences during a present-time conversation, in this case, the trial; however, as the story is being told, we are shown scenes of the events to corroborate their words. This formula is similar to "The Social Network," "Molly's Game" and many other famous screenplays by Sorkin.
There is not a single bad performance in this film, and the dense roster of award-winning actors turns the courtroom into the Best Supporting Actor Olympics. While some viewers may feel disappointed some actors, like Redmayne or Gordon-Levitt, were robbed of their chances to make a powerful Sorkin speech, audiences will be thrilled to see Sorkin bring out the best of Cohen and Rylance.
Cohen plays political activist Abbie Hoffman with a certain ease and finesse that will make the more earnest movie enthusiasts turn and scratch their heads as to why he has not been cast in weightier roles.
Some viewers may argue Sorkin dismisses some historical accuracy in favor of dramatic appeal. However, the timeliness of this story and its direct comparisons to today's political climate help propel this film into more than just a dramatic retelling of a historical moment, and into a piece of art that reflects upon its current society. Books and documentaries of this story already exist and this is not one of them.
Sorkin and Netflix remind us of an American story right at the time we needed it the most. "The whole world is watching," is chanted one last time before the credits roll over the screen, and as we continue navigating through this already wild decade, hopefully, the whole world will remember.
Leave a Comment