Los Rios Incarcerated Student Programs follow social justice work in Bryan Stevenson's 'Just Mercy'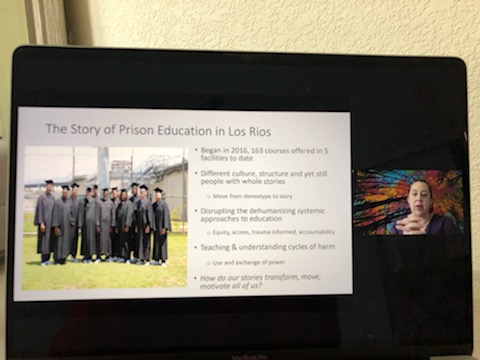 The Re-Emerging Scholars, a program designed to help students that have been incarcerated or that have been affected by the prison system, held a panel in conjunction with OneBook on March 17 to spark conversation of the impact education has on formerly and currently incarcerated students.
The work of the panelists was brought forward to exemplify the writings of Bryan Stevenson in "Just Mercy."
So far, the Re-Emerging Scholars program is available at Cosumnes River College, Sacramento City College, and is being started at Folsom Lake College.
"We are currently working on launching a chapter at American River College," Interim Dean Dr. Mariko Peshon said.
The program at Los Rios was founded originally by a sociology club at Sacramento City College in a collaboration between students and two professors of sociology: Nicholas Miller and Shane Logan.
The focus on incarcerated students was stirred up during a club meeting while the group was discussing criminal justice and the prison-industrial complex, Miller said.
"We realized the majority of the students in the room during the meeting were either formerly incarcerated, or had a family member, or a close friend or a parent that was incarcerated currently," Miller said. "It was affecting their life and their experience in education."
Miller said a survey among sociology classes offered at SCC discovered that 11% of students had been incarcerated and roughly a third had a parent or sibling that were currently incarcerated.
From that moment in 2017 to present day, what was originally a club turned into a fully conceptualized academic program that supported students who had been affected by the prison system. "As educators, what we're really engaging in are people's stories and the wholeness of who they are as a human being," Dean Peshon said. "We come together with the students to disrupt a lot of the dehumanizing approaches that correctional facilities have to rehabilitation."
Dr. Kalinda Jones, Professor of Human Services at Folsom Lake College said prison education intersects with other social injustices and helps to end the cycles of harm.
"I have many stories of ways that I have learned with students," Jones said. "Together, we have engaged in this process of trying to understand who we are versus who other people have told us who where are, and trying to make the world which is so full of white supremacy, and so full of racism and classism and sexism, and how we want to change and navigate that world of injustice."
Jones taught in multiple prisons throughout her career. Currently, she is navigating the pandemic and continuing prison education via mailed-in manila envelopes that allow an exchange between the professor and the student.
"We are currently offering 17 different disciplines in the facilities, all of which are transferable courses and meet general education requirements," Dean Peshon said. "We try to offer several subjects in each yard in each facility."
This semester, the offerings of the prison education program include art, English, history, music, marketing and sociology to name a few, Peshon said.
Joshua Fernandez, English Professor at Folsom Lake College said the impact that education has for those who have been in the prison system is invaluable and personal.
His personal history contains periods of time where he was both in juvenile detention and prison when he turned 18, yet the community provided a support system for him.
"There were certain people who saw little glimpses of something in me that I didn't even see in myself," Fernandez said. "For me, that was the difference between me continuing a life that was pretty much trapped within the system and of me breaking out and doing something for myself."
Fernandez said he's never forgotten that and wants to give back as best he can in the classrooms of FLC. His spark was actually with Dr. Jones.
During a visit to Mule Creek State Prison the inmates gave a presentation on prison education recruitment.
"It was full of humanity," Fernandez said. "The prison is not a beautiful place, but inside that classroom, somehow, we could just see this beauty."
Fernandez applied right away to teach in prisons.
This experience of education, and the community that it provides, is also reflected in the life of UC Berkeley student and CRC alumni Jonathan Dena.
Dena was also in the prison system at age 16 as an accessory to a crime. He graduated high school in 2009 in juvenile detention, but wasn't able to access higher education until 2013, which was a four year gap.
Dena said it felt like he was doing something positive with his life and thoroughly enjoyed the experience.
When he got out from prison nine years later, the world had changed in ways he wasn't prepared for.
"When I finally started going to classes again, I was very ashamed of where I came from," Dena said. "I didn't understand a lot of this new decade of technology and social media. It was very awkward for me."
With a strong community and supportive professors, he persevered and was able to overcome his initial hesitations. He now advises other re-emerging scholars at CRC.
"You can't effectively fight abusive power, poverty, inequality, illness, oppression, or injustice and not be broken by it," Stevenson said.
Leave a Comment