Medical and mental health service provides free care for students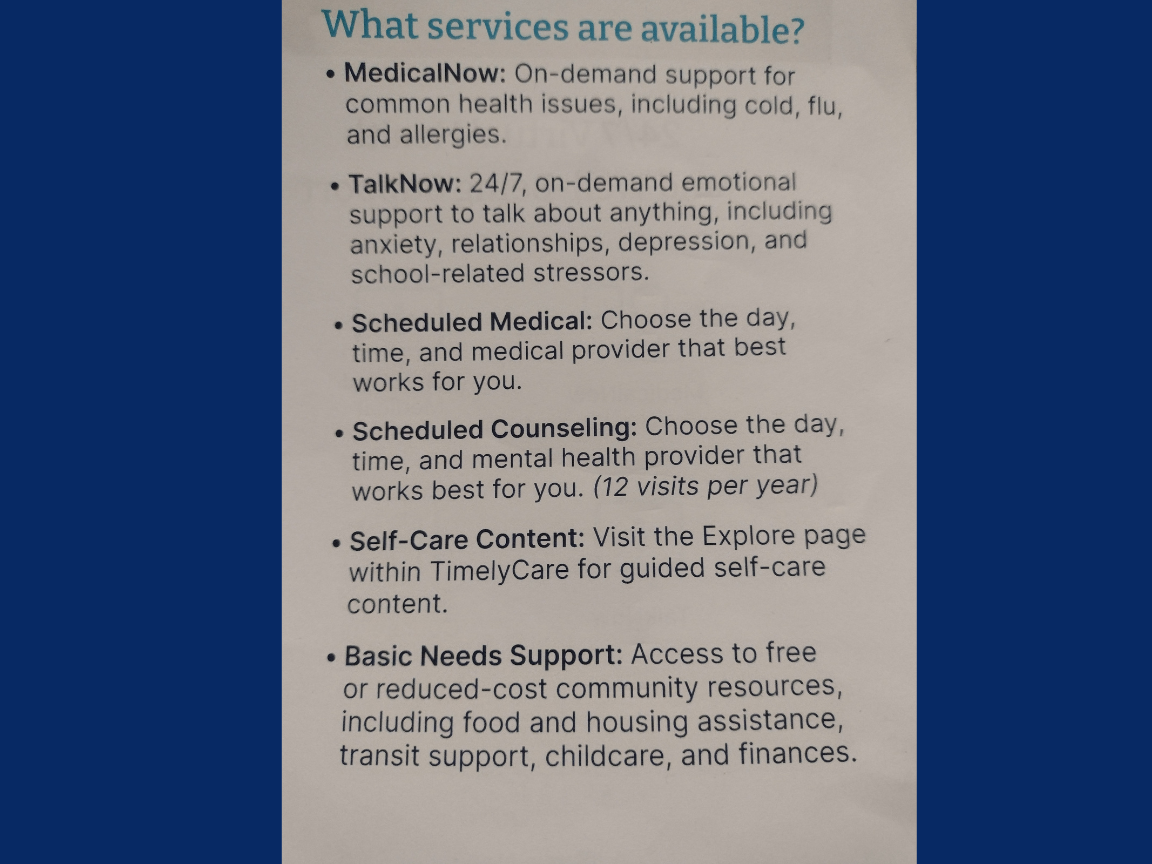 A free coffee get-together event was held in the library lobby on campus on Jan. 31 where students learned about a service that offers free 24/7 access to medical and mental health services.
The service is called TimelyCare and they provide free virtual care for students in need. The event was hosted by Client Success Manager with TimelyCare Jenna Galezniak.
"Our mission at TimelyCare is to lower barriers of care to students and being able to do that by partnering through the campus itself to provide this to you guys is how we're doing that," Galezniak said. "Today is really for student engagement and awareness, so letting more students know that they have access to TimelyCare and is completely free to students."
Galezniak said students need to log in to TimelyCare with their student email address and will have access to medical and emotional support, but also have access to well-being content, such as yoga and meditation.
"Everything's through either the desktop version TimelyCare.com/LRCCD or you can download the TimelyCare app," Galezniak said. "Everything is on the platform, it's pre-recorded, you can watch it at 12 p.m. or 3 a.m. whenever you would like."
Galezniak said MedicalNow, which is one of the services on TimelyCare, is on-demand medical and students can meet with a doctor in less than 10 minutes.
"You can do it from your room, your car, wherever you feel most comfortable in private," Galezniak said. "No insurance is needed and our doctors also can write prescriptions and we have a prescription savings card, so say you do need an antibiotic, we have a prescription savings card to make that even more cost-effective for you."
Galezniak said when students log in for a medical visit, they'll plug in their pharmacy of choice before they meet with the doctor just in case the prescription is prescribed.
Galezniak said for the scheduled counseling service, students can meet with a provider of their choice in the state of California at the time that works best for them and who they want to meet with. She also added that the counseling sessions are 45 minutes to an hour.
"With that provider, you really like talking to them, you can continue to meet with them for all 12 of your scheduled counseling sessions that you have per year," Galezniak said. "It's 12 per year per student and they reset every year on the first of August as long as they're still a student on campus."
Selmir Sejdic, an 18-year-old sociology major, said the TimelyCare app is going to be helpful for students.
"I have terrible anxiety when it comes to taking tests or thinking about my future, so I'm definitely going to take advantage of those yoga and meditation exercises that they have on the app," Sejdic said.
Galezniak said students should take advantage of TimelyCare.
"More students that take advantage of it, the college will continue to provide it," Galezniak said.
Leave a Comment